The Crossover Year
Title: The Crossover Year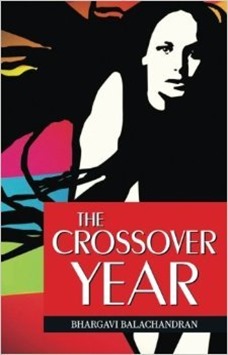 Author: Bhargavi Balachandran
Publisher: Alchemy Publishers
ISBN: 978-81-8046-088-3
Number of Pages: 288
Price [INR] : 200
Genre: Fiction
Meet Sri Anu Prabha aka Anu, a twenty-nine year old banker who is terrified of entering her thirties. She dreams of quitting her job at the bank, sporting yoga pants and traipsing around the world. Her world turns upside down when things go awry and she is faced with the prospect of spending her days watching Tamil serials. She comes up with a five-point plan for reclaiming her life back before she hits the big 30. But things are never as simple as drawing up a flowchart in real life, are they? Especially with a ghastly recession rearing its ugly head.

Anu bumbles through the corridors of domesticity and travels on a fun-filled roller coaster ride in a bid to discover her passion in life.Along the way, she meets new people, experiences crazy new things and learns some hard lessons in marriage, friendship, parenting and life.

The Crossover Year is a funny, yet heartwarming story of a woman in search of her identity, and a chronicle of her hilarious quest for discovering her inner mojo. Bring out a platter of cookies and a steaming mug of chai, and join Anu on the ride of her lifetime.
The Crossover Year is coming of age story of Anu. An average job in an average bank with a terrible boss and office politics pushes Anu to give in her resignation letter. With a recession in full bloom, the jobs are scarce and none for Anu. After sitting at home and watching her favorite Tamil serials starring Raakkesh Kumar, insecurity creeps in and she joins a gym and abandons it half way, then attempts to audition for a play and fails, and even learns to try her hand at poetry for a day. She discovers that she can love pets and can handle brats too. And then she finds herself participating in Super Home Maker competition. Supporting her in all these trials and tribulations is her husband Mukund. The relationship shared between them is kind of sweet. I loved the idea of giving free gift vouchers to the spouse!
The story revolves around Anu and her old and new relationships, as she moves ahead in her journey to discover herself. It also makes you ponder over the abuse in a bad marriage and the stigma attached to divorce and single mothers in our society and gives insights about the virtues of Tam-Brahm Maama and Maami.
The author has written this book from a first person perspective and that connects better with the readers. I liked the wit and humour laced narrative which sets the tone of the book right, from the very first page. The story moves at an unhurried pace but keeps the reader in you entertained and engaged with the characters. The climax of the story wasn't as impacting as it could have been. I found it to be too dramatic and perhaps a little hurried one!
The Crossover Year is a humorous, fun and funny, light read! It is an ideal companion for a journey or a lazy afternoon replete with smiles and giggles.
And this is the 800th post on my blog!! 800 posts… I'm liking the ring to it!  🙂