This and That
A quick random post.
Last week I went for a workshop which was held on a camp site at Rishikesh. The highlight of this trip was the white water rafting that we did on a 24 river kms stretch on the Ganges! It was a super exhilarating and a fun experience.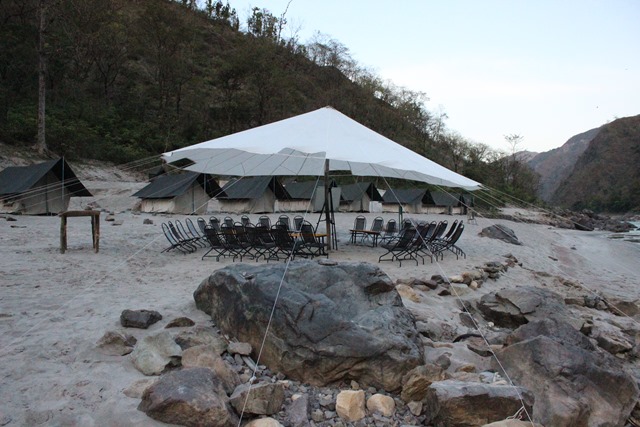 This is the camp where we stayed. Yes, those small huts were our home for 3 days. The area under the white parachute was our conference hall.
The food was simple and basic and simply awesome and the weather was COLD. Except me nobody had carried any woollens! Yes, the smart me, knows that it always gets chillier (pleasant for others) in the mornings and evenings near the rivers and mountains. But it was not pleasant out there in the evenings but was rather very very cold!! Bon fire and fire-water kept the other people warm 😉
Saw this metallic Ox at a resort. Very creative, I must say!!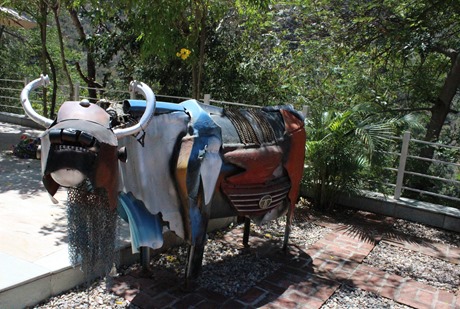 In the train, during sometimes in the afternoon, the attendant came to gather all the beddings consisting of a blanket, 2 bed sheets and a pillow. And like in all trains, I saw this guy, folding the blankets with the ends of the blankets touching the train floor, which was so messy and dirty. I asked him the frequency of washing/dry cleaning the bedding. He replied the pillow covers and bed sheets are washed daily while the blankets are washed after a month or so!! I told him that he is dirtying the blankets with his style of folding. He said that he has to fold around 150 beddings in 2 compartments so this is the best he can do.
I shared this with a friend and she said that only I could think and ask questions about unhygienic blankets in the train. 🙄 Sigh!!
Pictures Courtesy : Himanshu Pandey