Use it Up, Wear it Out…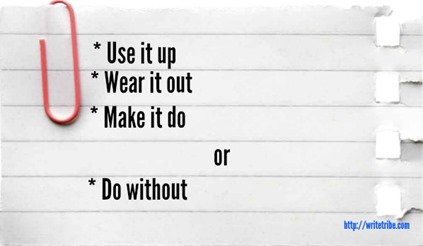 This picture reminds me of the mantra 'Reduce, Reuse and Recycle', which we need to make it as a way of life. This not only helps in reducing waste and conserving resources but protects our environment too.
Here are a few things that I do reflect the philosophy of Use it Up, Wear it Out, Make it Do, or Do Without.
Ways to Use it Up
I prefer to use both sides of the paper while printing.
If the above cannot be done, then, I tear a few single side printed papers into two and staple them together to make a small note pad and use it for making lists, or writing down important points when on a call.
I hate wasting food. So, all the leftovers are turned into something new and interesting. The leftover cooked rice is used to make rice pancakes or KG's favourite signature dish, Tahiri. I have a cook book from Tarla Dalal which is titled, "Recipes using Left Overs". Can you believe that?
Ways to Wear it Out
We have a lady who has a small boutique near our home and she specializes in making bags out of old jeans, beautiful patchwork bedcovers from old clothes, light quilts from old sarees. So, I use her skills and use the old clothes in the house in a new avataar.
Kids outgrow their clothes so fast and I do that too, due to ever

changing

increasing waistline. So, all our clothes which are in good condition are donated at SOS Village or Mother Teresa Home or given to the house helps.
Ways to Make it Do
Old but good bed sheets are folded and cut into small sizes and made as door mats. I remember my Mom made a lot of baby crib sheets and bedding from old bed sheets when Aaryan was born.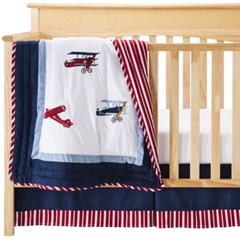 Ways to Do Without
Not buying things just because they are on SALE which actually I don't really need and didn't really want before I saw them on sale. I certainly do not waste my money on such 'attractions' now.
We learnt the hard way that Credit Cards are like loan sharks. Using a Debit Card instead of a Credit Card works for us and that we have not used a Credit Card since the last 10 years makes us feel very proud and stress free.
Adopting the philosophy of Use it Up, Wear it Out, Make it Do, or Do Without in ever day life is not about being miser or a penny-pincher. It is about making the best use of the given resources, it is about choosing to opt for a frugal living.
Do you believe in philosophy of Use it Up, Wear it Out, Make it Do, or Do Without in your life? If yes, please do share about your frugal choices in life!
Linking it to the Write Tribe's Wednesday Prompt 2014 #12