Far Beyond the Dead End
Title: Far Beyond the Dead End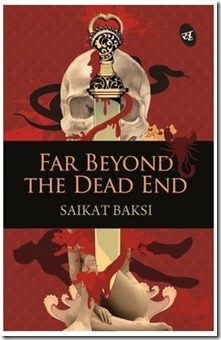 Author: Saikat Bakshi
Publisher: Srishti Publishers
ISBN: 978-93-82665-12-0
Number of Pages: 228
Price [INR] : 150
Genre: Fiction
They called it the 'mound of dead'. In other words, Mohenjo-Daro!

But beneath those layers of ruin, once flourished a town pulsating with life. There lived Koli with her enigmatic charm, Sindhu with an eyeful of dreams, Girad with his raging passion, the decrepit priest prophesying the doom and many others. They loved, hated and chased their fixations in manic rage. A series of mysterious deaths ensued from such frenetic hunt for lust, riches and glory. Yet, the inexorable game of destruction did not cease to play, until they ventured Far Beyond the Dead End only to be discovered under a heap of rubble four thousand years later.
Far Beyond the Dead End is set against the backdrop of Indus-Saraswati Civilization. The civilization had perished leaving behind some meticulously planned deserted towns such as Mohenjo-Daro, Harappa , Lothal etc.
The story of this book takes us back to the town of Mohenjo-Daro.
Far Beyond the Dead End is the story of Koli  who is beautiful, smart and intellectually inclined. Koli is talented and skilled at art and craft too. Her father wants her to marry Sindhu, who is perfect for Koli. Girad, a failed businessman lusts after Koli and is stopping at nothing to get to her. He resorts to devious methods to make her his own. After marriage, life isn't the same for Koli, but it goes on. The town is under the threat of a doomsday and in this mayhem, a lot of animal sacrifices and murders take place.
The author has done considerable research on this civilization including the culture, art and artifacts, the architecture and infrastructure, the administration and general life, to give an authentic feel of the times then.
The story has 3 strong central characters which have been etched well. The narrative is smooth and crisp. The storyline lacks that exciting buzz for the major part of the book. And all the excitement is suddenly packed in the end and that takes you by surprise.
Set in times which dates three millennia ago, Far Beyond the Dead End, is a nicely paced book that makes for a good read. There is a rare charm in it and that's because of its setting and thus makes for an interesting read.
Rating : [usr 3 text="false" size=20]