With a Pinch of Salt
Title: With a Pinch of Salt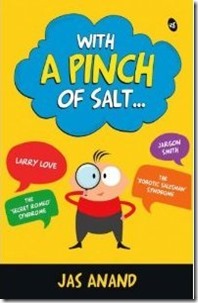 Author: Jas Anand
Publisher: Srishti Publishers
ISBN: 978-93-82665-13-7
Number of Pages: 181
Price [INR] : 100
Genre: Humour
There are some people who can never come straight to a point. If you ask them a simple question like what is the time? They would probably reply, Time! This is the most horrible time of my life. My father is not sending me more money, I cant understand any damn thing in the lectures, no girl ever seems to be interested in me and the hostel food is pathetic. It is the worst time of my life.

In short, this book is like a handbook of everyday humor. It is based on observation of funny tendencies in people and then creating fictional caricatures and anecdotes around them.

The tendency of beating around the mulberry bush has been converted into a fictional character called Simon Satellite. And yes, there are many more such characters and anecdotes, served With a Pinch of Salt.
Life is a perpetual series of anecdotes, one after the other. If one observes keenly and closely, we do come across some unique characters who give us innumerable anecdotes and memorable stories to share.
The first chapter which is an introduction to the book, states that With a Pinch of Salt is collection of numerous unique characters that the author has come across in his life and some anecdotes related to them or related to their tendencies.  According to the author, the book is about every day humour also that the book is a piece of fiction and the inspiration is drawn from multiple sources that have been merged /integrated to give it a readable format.
With the expectations set right, I started reading this book. Various characters and their special features and tendencies along with the anecdotes are shared in various chapters. No doubt characters like Simon 'Satellite', Googly Gilbert, Gregory Gilbert, Wally Wordsworth, Goofy Gordon, Venkat Borapathy etc have some unique idiosyncrasies. What I found that in all these incidents and short narratives about these characters, the humour and jest was rather low while  the ridicule quotient was very high. And that didn't gel well with my sensibilities. There are incidents which are fun and funny too.
May be because of the Genre-Humour mentioned on the back cover page and the expectations from the book in the introduction chapter, I anticipated With a Pinch of Salt to be a laugh riot and not finding that, it dampened my reading experience. May be if one reads without these biases, they may find it appealing.
With a Pinch of Salt is pretty okay one time read.
Rating : [usr 2.5 text="false" size=20]