The Thugs & a Courtesan
Title: The Thugs & a Courtesan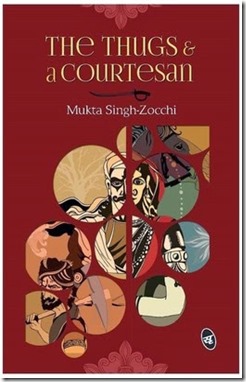 Author: Mukta Singh-Zocchi
Publisher: Srishti Publishers Distributors
ISBN: 978-93-82665-16-8
Number of Pages: 190
Price [INR] : 198
Genre: Fiction
Meander through 1819 India with Firangia as he covers villages, jungles and small towns while on a journey of romance, devotion, crime and deception. But there is someone always watching over. This is pre-railways India, when merchants travel in caravans, noblemen with escorts and no road is secure.
On his way home after a trade expedition, Firangia's path is crossed by the beautiful Chanda Bai, traveling with a small party of guards. Though a warrior, she wishes to travel under his protection. Should he decline?
Read about grandiose ambitions pitted against petty schemes, love and deceit and what in our modern times is termed evil. You will find in this intellectually ambitious, meticulously researched, action-packed historical fiction a broader, age-independent significance.
The Thugs & a Courtesan is a story which is set in the 18th century during the British rule in India. It charts the journey of a young man Firangia who along with a band of fellow traders and thugs travel across villages and jungles. It also traces his journey from the untruth to truth, from the darkness to light and from death to immorality.
What I liked about this book.
A novel story and a unique plot giving a peek into the life and culture during the 18th century India under the British rule.
The meticulous research done by the author takes the reader in you into a time travel along with a few lessons in history of the period then.
Sub plots in the story are short and some of them make for a very interesting read.
What didnt work for me with this book…
The language. It is prolix and wordy and too artificial (know what I mean!) And that was a big dampener.
Poorly etched out characters and they are quite a lot, leave the reader a bit puzzled, even the lead character fails to grab attention.
Many sub plots were not linked to the main story and were left hanging like extra threads at the end of the book.
The Thugs & a Courtesan could have been a promising read but it missed the bus, somehow.
Rating : [usr 2 text="false" size=20]