Trouble Has a New Name
Title: Trouble Has a New Name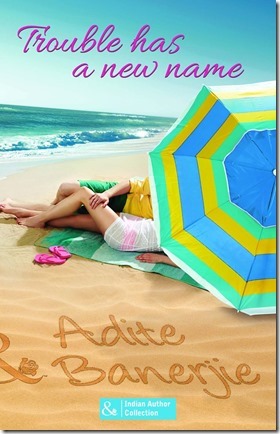 Author: Adite Banerjie
Publisher: Harlequin India
ISBN: 9351065138
Number of Pages: 192
Price [INR]: 150
Genre: Romance
Rayna is a model who is dumped by Sid through a text message. She doesn't have time to mope around as she has a wedding to attend.
It's the big fat wedding of her best friend Milee at a boutique resort at the Andaman Islands. She manages to catch the flight, exchanges some smart and witty remarks with a Greek God of a co-passenger and then drenches him in orange juice too.
The resort is chock-a-block with guests, so she has no option but to share the villa with the Greek God, Neel who turns out to be the owner of the resort and the Best Man at the wedding.
To keep the gossip mongers and nosy relatives at bay, Rayna asks Neel to be her pretend fiancé. Sparks fly between them from the word go. Rayna falls in love with Neel, only to see him leaving her, as Neel struggles to fight his own personal demons.
What happens to the two of them? Read the book to find that out.
I enjoyed reading Adite's book and finished it in a couple of hours.
What I liked about this book:
Though I could predict the way the story would flow, but the fact that it kept me hooked to the book is commendable.
The characters are believable and have their flaws which make them human and relatable.
Loved the RBILs – The Rayna Book of Immutable Laws. They are interesting and keep coming back to bite her in the butt. Rayna's self talk and the smart acronyms like OOO, HTRB Syndrome etc are pretty delightful.
The voice of the author is vivid and lucid and has a writing style that engages and entertains. The wit and humor laced dialogues between the characters brings smiles and add to the charm of the story.
The book is well edited that pleased the reader in me, a lot!
Trouble has a New Name has the fizz of a chick-lit and a romance that makes you sigh dreamily. A delightful read, indeed.
Rating : [usr 4 text="false" size=20]