Private India
an Title: Private India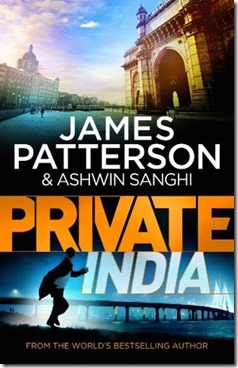 Author: Ashwin Sanghi & James Patterson
Publisher: Arrow Books
ISBN: 978-0-099-58639-5
Number of Pages: 470
Price [INR]: 350
Genre: Fiction
In Mumbai seemingly unconnected people are dying, strangled in a chilling ritual and with strange objects carefully arranged with the corpses.

For Santosh Wagh, head of Private India, the Mumbai branch of the world's finest investigation agency, it's a race against time to stop the killer striking again.

In a city of over thirteen million, he'd have his work cut out at the best of times but this case has him battling Mumbai's biggest gang lord and a godman who isn't all he seems.

And then he discovers there may be an even greater danger facing Private India. Hidden in the shadows is someone who could destroy the whole organisation – along with thousands of innocent Mumbai citizens…
I have read Ashwin Sanghi's Chanakya's Chant and The Krishna Key and enjoyed reading them. I liked the detailed the fast paced thrilling mystery in both these books which had loads of intrigue and insights along with a good dose of history and mythology. So, when India's thriller writer Ashwin Sanghi collaborated with internationally acclaimed writer James Patterson (I have not read any of his books … have heard a lot about the various series though) to bring Patterson's Private series to India, my expectations from these two bestselling authors together in this book were high.
It all starts with the murder of a woman strangulated with a yellow scarf and some strange trinkets in her hands. Private India, the world's biggest detective agency is called in by the police to handle the case. And soon enough, there are more such murders in the city. All the victims are women and are murdered by strangulation with a yellow scarf around their necks and different religious and cultural symbols around them.
The agents at Private India get down to crack the case. In the process, they come across gangsters, a godman, corrupt cops and government officials who are involved in prostitution, betting, drugs, begging syndicate and even Pakistan's ISI acting through the Indian Mujahideen who tries to plant bombs in Mumbai.
Apart from the description of high tech gadgets and techniques, Sanghi's favourite subject of Hindu mythology and mysticism in the form of the nine avatars of Goddess Durga and their significance along with the Thugee cult during the British India finds a place in the story too, which made for an insightful and an interesting read.
Private India is a story that is action packed with the right amount of suspense and mystery. The needle of suspicion kept changing from one character to the other as the story progresses and that kept the intrigue and suspense alive. It is an absolute page turner as I finished reading it in a few hours.
The only gripe I had while reading Private India was poor or inappropriate word choices, awkward sentence structures and occasional lapses into bad grammar and incorrect (mostly missing) punctuation. All this was so much so that I had to re-read many sentences to understand what was being said.
But at the end of the day, what really matters is that the story kept me glued to it as the tension rose to a surprising conclusion. Also the large font size and nearly 100+ short chapters spread over 470 pages, made Private India an easy breezy read.
Rating : [usr 3.75 text="false" size=20]
This review is a part of the biggest Book review program for Indian Bloggers.Participate now to get free books!