Catherine Dickens: Outside the Magic Circle
Title: Catherine Dickens: Outside the Magic Circle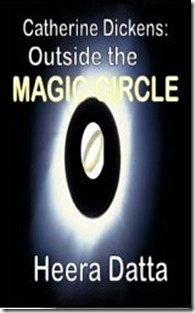 Author: Heera Datta
ASIN: B00JLGRX7W
Number of Pages: 195
Price [INR] : 390
Genre: Fiction (ebook)
Charles Dickens married Catherine Hogarth on 2nd April, 1836, when he was an upcoming writer and reporter. Soon after marriage, he tasted spectacular success with The Pickwick Papers and in ten years, was the foremost writer of his time.
Catherine was the mother of his ten children, his hostess, she accompanied him on his American tour.

Yet, twenty-one years after they wed, Charles Dickens very publicly separated from her, denouncing her as an unfit mother and wife. He removed her from his home, his life, and the lives of his children. He never saw her again, not even when their son, Walter, died at the age of twenty-three in faraway India.

His allegations about his wife and his unhappy marriage were works of fiction, as successful and enduring as the rest of his works. The real cause of the separation was an eighteen-year-old actress, Ellen Ternan, who later became his mistress.

On her deathbed, Catherine gave her daughter letters Charles had written to her and said, "Give these to the British Museum, that the world may know he loved me once."

Outside the Magic Circle is a fictionalized account of Catherine's life after she was plucked out of her familiar world and thrown to the wolves, as it were, by the exemplary Charles Dickens. It is told in her voice; sometimes reminiscing, at other times baffled, confused, hurt, angry. It has her tears, her love, and her quest for the meaning of her life, and marriage.
Charles Dickens! I remember reading so many of his books during school days. Through humour and satire he gave a glimpse of the society during the Victorian period. I had never read and/or known anything about his personal life till I read Catherine Dickens: Outside the Magic Circle.
Charles married Catherine in 1836 and they had 10 children. After twenty-one years of marriage, Charles forced Catherine to separate from him and their children and called it a separation by mutual consent.
In personal life, Charles came across as a very controlling, persuasive, tyrant, stubborn man who liked everything in the house exactly the way he wanted, he even liked to go over the menu of the next meal. He could be insensitive, brutal and disparaging towards Catherine and the children in front of friends. Of course, his admonishments, ill humour and mockery was all cleverly couched in pleasant words. All this gradually chipped away the confidence of not only Catherine but even the children. He was very loving and caring too and loved his family, would keep them in splits with his jocularity.
Catherine loved him with all her heart and was proud to be his wife despite being publicly dumped, maligned, removed from her home and separated from her children, the youngest being only six years old, for no fault of hers. She came across as a very strong woman.
I enjoyed reading this very different book which gave insights about this great writer's real life. The author has done a comprehensive research in writing this book. As this book is 'part fiction and part fact; less fiction and more fact', the fiction part is very believable. I felt that the story could have been a little more crisp. Towards the end it really became stretchy and felt as if it was just getting repetitive. The dialogues sometimes felt too stiff and formal, but may be that was the language used in that period!
Needless to say, that after reading this book, I am keen to read Charles Dickens' works once again, to read him in new light. And really glad that the author Heera Datta shared the other side of a legend through this book and gave a voice to Catherine too.
An interesting read.
Rating : [usr 3.75 text="false" size=20]