Metamorphing by Kunal Pancholi
Title: Metamorphing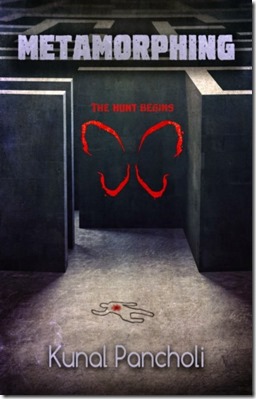 Author: Kunal Pancholi
Publisher: Frog Books
ISBN: 978-93-83562-99-2
Number of Pages: 250
Price [INR] : 225
Genre: Fiction
28TH APRIL, 2000: Flight No. 9×4876 bound to Srinagar has crash landed into the Everest Base camp. Unconfirmed reports suggest that the flight mysteriously went off the radar for few minutes and missed its landing. All passengers are feared dead… except for three bodies that are yet to be recovered.

8TH DECEMBER, 2050: This, without doubt is the most gruesome murder in recent times. Early this morning, an unidentified woman was found mutilated at the western gates of the abandoned Victoria Terminus Station in Mumbai. Authorities report her head was … well … semi-decapitated and she was drained of all her blood. The shocking part – the crime scene was devoid of any signs of blood spatter…

ROHAN: "I was shorter than the shortest girl in school. I had to be ahead in the game…"
RUDRA: "Was I a private detective? What kind of sinister case am I getting into?"

A thrilling tale about two men bound by an untraceable yet undeniable fate – One running away from his past, another unaware of his own.
Metamorphing has two disjointed stories of Rohan and Rudra running parallelly in alternate chapters. Rohan's story starts in the year 2000 while Rudra's story is set in 2050.
Rudra is pronounced dead on arrival at the hospital but soon regains consciousness and appears to have a gap in his memory. A woman whose son is accused of murder asks him to help her son. Rudra has no clue that he was a private detective earlier but accepts the case and starts working on it.
Rohan's Achilles' heel is his height but this shortcoming contributes to strengthen his will to fight, survive and win. He finds love in his childhood friend, Gina. He is a lone survivor in a plane crash and is back from the dead after 5 years, to find his parents still waiting for him and his lady love married.
These two diverse stories progress at a nice pace and keep the reader in you totally engrossed. However at one point of time, I wondered about the relevance of totally unrelated stories from two different time periods in a book. And then it hits you like a bolt from the blue. How the two stories are amalgamated into the climax, that is truly an Aha! moment.
Metamorphing has a refreshingly different story line that is executed well. Each character is well etched out. Though the detailed characterization of those who didn't had much role in the story could have been avoided. The voice of the author is simple, clear and lucid. The incidental details like the sneak peek into the college life of students of Criminology or the crime scene case studies and the interpretations by the students or the rules of being a motivational speaker or the travel in the future or usage of biometrics for information made for a fascinating and interesting read. There are a few gaping holes in the story line and some of the clues to solve the mystery came in too easily. But the climax floors you totally.
To summarize, Metamorphing is an engaging tale of two men with diverse profiles, in different time zones, one running away from his past, another unaware of his own but connected to each other in a bizarre manner!
Rating : [usr 3.75 text="false" size=20]
This book review is a part of The Readers Cosmos Book Review Program. To get free books log on to thereaderscosmos.blogspot.com