I, Me, Myself Syndrome
I have a few 'friends' on my Facebook profile who are plagued by this syndrome. I don't think they are aware of this affliction. Because, if they were, they would have taken some remedial actions, but their affliction continues to progress unabated, much to the chagrin of others.
Yes, they are bitten by the selfie bug.
These friends click and upload at least a dozen selfies a day. All they have to do is turn to their good side, look up slightly (of course, the double chin shouldn't be visible), stretch their arm and simply shoot themselves, of course with their smartphones.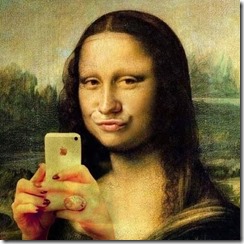 They LOVE to click themselves with a pout, with a smile, with 'that' look, with love in their eyes, everywhere… be it in the office, in front of the car or in the car, on the stairs, in the bathroom, in a new dress or just a regular tee. They also like to click themselves with their child in the backseat of the car, or with coffee at Starbucks…  And then just share these pics on social media and wait for the likes and comments from friends to pour or trickle in.
They say that the selfies (in moderation!) may be good for one's self esteem and/or may uplift the mood, but too many selfies are not good. Some people may just get addicted to taking that perfect selfie and may kill themselves when they fail to do it. Also, one may get distracted by the marketing of themselves through these selfies, and may lose touch with their authentic identities and there could be a struggle to build real relationships.
I don't know about others, but somehow seeing these selfies day in and day out irk me, somewhat. And then I read about a study from U.K. that confirmed what I had long suspected. The study found that oversharing of Facebook photos is more than just a nuisance, and uploading a hundred selfies per day could very well be damaging to your real-world relationships. And that both excessive photo sharing and sharing photos of a certain type makes almost everyone like you less. This is because people, other than very close friends and relatives, don't seem to relate well to those who constantly share photos of themselves.
So, what is the cure for this I, Me, Myself syndrome, which is not only harmful for these selfie bugged people but also for their relationships. Well, it is pretty simple, "Stop taking so many damn selfies!"
Linking this to the Write Tribe's Wednesday prompt, "I, Me, and Myself"