His Runaway Royal Bride
Title: His Runaway Royal Bride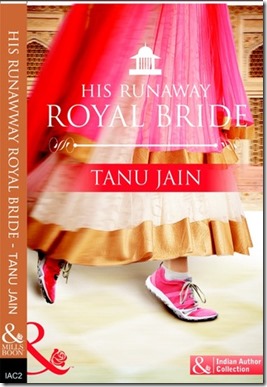 Author: Tanu Jain
Publisher: Harlequin India
ISBN: 978-93-5106-461-9
Number of Pages: 185
Price [INR]: 150
Genre: Romance
When Maharaj Vidyamann Veer Singh of Samogpur's beautiful young wife vanished three years ago everyone thought she was dead. When Veer discovers she's actually alive and well he's determined to bring her back home to do her duty…

Meethi loved Veer passionately, but felt shackled in the role of his wife. When Veer demands her return, she must obey, but being back by his side is heaven and hell. Because, despite their new found happiness, secrets from the past still linger. And Meethi knows that they threaten to destroy everything…
His Runaway Royal Bride is the first book that I have read from the Indian Author Collection of Mills & Boon. I had some apprehensions before reading this book regarding the language and the editing part. And these doubts just flew out of the window, as I started reading the book.
This is a story of a 19 year old girl who gets married to Maharaj Vidyamann Veer Singh of Samogpur. Meethi is a simple commoner who is not able to meet the expected royal code of conduct. She falters and fumbles and is often ridiculed by the royal family. Though she is in love with Veer but the royal life and its protocol suffocates her. So, she decides to end it all by running away from the palace by faking her death.
After three years, Veer tracks her down and brings her back, much against her wishes. Will he be able to really get her back after all these years? Will he be able to know the reason behind her fake death? Will he be able to win her back again? His Runaway Royal Bride answers all this in a riveting and an engaging story which takes the readers on an emotional roller coaster along with  high voltage family drama. The story also has romance with a lot of heat, raw emotions and unbridled passion.
The author has captured Meethi's emotional upheaval very well and Veer despite being very egoistic and too proud of his family's name and honour is a true M&B hero. The language is simple and narrative is crisp and engaging. What I also liked about this book is its classy and elegant cover design which is so apt for the story.
Go for His Runaway Royal Bride. Definitely an enjoyable read!
Rating : [usr 3.75 text="false" size=20]