Women's Clothing and Gender Inequality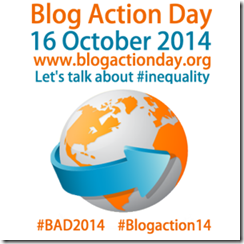 I am participating in Blog Action Day. Blog Action Day is a free annual event, that is organised since 2007. Its aim is to unite the bloggers from all over the world, by posting about the same issue, on the same day, in order to raise awareness and trigger a positive global discussion around an important issue that impacts us all.  Past topics have included Water, Climate Change, Poverty, Food, Power of We and Human Rights, with over 25,000 blogs taking part since 2007. Blogs from 111 countries are taking part in Blog Action Day 2014 over the next few days. This year, the focus is on Inequality.
Gender equality is, first and foremost, a human right. Measures of gender equality include access to basic education, health and life expectancy, equality of economic opportunity, social and political empowerment. But this very basic human right is denied to most women.
Although there has been evident progress, many alarming issues regarding gender discrimination still prevail today.
In 2001 a militant group demanded that Muslim women in Kashmir wear burqas, head to toe garments that cover their clothes, or risk being attacked. Men threw acid in the faces of two women for not covering up in public. The group also demanded that Hindu and Sikh women dress so as to identify themselves: they said that Hindu women should wear a bindi (the traditional colored dot) on their foreheads, and Sikh women should cover their heads with saffron-colored cloth.
Cut to October 2014, veteran singer K J Yesudas suggested that women 'should not trouble others by wearing jeans.' Imagine, a public figure like him blames women's clothes for sexual crimes! Statistics reveal that majority of the sexual crimes are committed by men. However, our society believes that it is women and their clothing that is responsible for this and it is up to the women to stop these sexual assaults.
So right from childhood, we have been taught that wearing short clothes, going alone at night, talking to strangers lead to sexual assault. It is implied that if a woman drinks or flirts or is sexually active, she is available and/or asking for it.
Is it that only skimpily clad women are assaulted? No, women have been assaulted even if they are covered from head to toe whether in a burqua, sari, salwar-suit and/or jeans. Women are raped not only in a deserted by-lane but even at homes or a place swarming with people. So, it is not a woman's clothing that leads to her rape. By using the woman's clothing as an excuse for a sexual assault, we are overtly stating that the man was a victim and he is not responsible for his actions.
It is a woman's fundamental right to choose what she wants to wears and that should not be dictated by the rules preached by some men of the society.
So, my question to you today is "What will help reduce this gender inequality which violates a woman's freedom to dress the way she wants ?"
Also linking this to 7 Days of Rediscovering Your Blogging Groove – Day 6 : Ask a Question