The Girl He Left Behind
Title: The Girl He Left Behind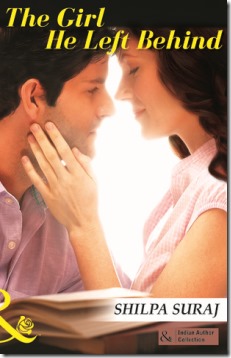 Author: Shilpa Suraj
Publisher: Harlequin India
ISBN: 978-93-5106-494-7
Number of Pages: 180
Price [INR]: 150
Genre: Romance
Sia was in love with her best friend Ryan and life couldn't possibly be more perfect. But her world comes crashing down when Ryan walks away from her life to carve his own identity. He leaves her heartbroken only to return back in her life after 6 years.
Sia believes that she has moved on in life or perhaps not. Their paths cross each other, every day as Ryan's advertising agency is working with Sia's publishing house. So, her life is officially in hell too as they have to work together for the new ad campaign. Ryan tries to woo her back. But Sia is not taking any chances and ignores him. Will Sia let him back in her life again? And will Ryan ever win back the girl he left behind? Well, you need to read this book to find all about that.
The story line is pretty simple and a bit dramatic and clichéd, if I may add. I enjoyed all the different layers it added to the story, though. I liked the supporting characters, Minty and Adarsh who are the best buddies one can have. Even though Sia and Ryan's relationship does not move at a fast pace, their thoughts, insecurities, hang-ups, and desires all ring true and one can easily identify with them. Though the bond and the chemistry that they share is palpable what I liked is Sia's strength of accepting Ryan only when she is ready.
Shilpa's writing style is clear, concise and engaging. A promising debut, indeed.
The cover design could have been better. I mean, if it was not a review copy, I would have never picked this book. Yes, I sometimes do judge a book by its cover. 😛
Definitely recommend if you're in a mood for some light, breezy romance.
Rating : [usr 3.5 text="false" size=20]