Learn
We have all grown up seeing and reading about a friendly bear who has answer's to all problems of life. Of course, we learnt to appreciate him more and better with age. Yes, I am talking about Winnie-The-Pooh who lives in The Hundred Acre Wood with his friends. He first came to life in A. A. Milne's book in 1924 and was adopted by Disney in 1961.
There's a lot of life's wisdom that can be learnt from this cute big bear. I share the two learnings that I need to apply in my life!
Live in the moment : Seizing each moment in life means being conscious, aware and in the present with all of our senses. It means not dwelling on the past, nor being anxious or worrying about the future.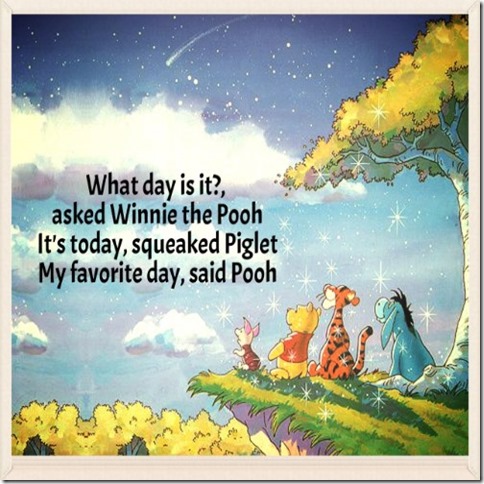 If you want something, go and get it. If you genuinely want something, don't wait for it. Simply go after it, work for it and stop not till the goal is achieved.
Thank you Pooh for sharing some wise lessons for us to learn and grow.