Get. Set. Bolt
This weekend, we were at the World Trade Park, doing what we love the most in a mall! Yes, shopping. On the ground floor of this world class business and entertainment centre we saw the display of a new car from Tata Motors.
About six months ago, I was a part of the launch event of another new car from Tata Motors. That was Tata Zest. During that launch event at Goa, the product specialists from Tata Motors had taken us through the technological aspects of Zest in a Master Class. So, I was keen to know about this yet another new car from the Tata Motors' stable.
I immediately rushed to the display area and had a chat with the sales guy. This is what he shared with me…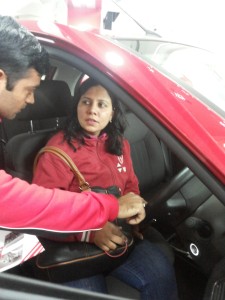 Tata Bolt is the new hatchback in the Indian market.
Bolt means speed and  it is truly represents that as it is powered by a powerful Revotron 1.2 turbocharged MPFi petrol engine, 5-speed manual Transmission, a Power  of 88.8bhp @ 5000rpm and Torque of 140Nm @ 1750-3500 rpm.
For the first time ever in this segment, Bolt comes with a Multi-Drive in three modes ie SPORT, ECO and CITY.  These three modes allows the driver to set the engine action depending on driving needs. Sport mode is one when need a burst of power, Eco mode is when needs excellent fuel efficiency and City mode is for a perfect balance between the two.
Tata Bolt comes with generation next safety with 9th generation Anti-lock Braking System by BOSCH, corner stability control and standard dual-airbags.
Bolt has many features, superior space and comfort which are usually seen in luxury cars. Cabin space is pretty good and there is enough space for three adults at the back. With Bolt, Tata Motors are making the luxury features affordable and available to customers in the hatchback segment.
Tata Bolt comes with a Harman infotainment system which has a 5-inch touchscreen display. The music system supports AUX-in, Bluetooth, USB, SD card, iPod and FM/AM connectivity. So, howsoever you listen to your music outside the car, you can listen to it in the same way inside the Bolt too. Bolt has blue tooth connectivity with voice integration, SMS read-outs, touch operated AC controls. These features are in Tata Zest too. But Bolt has two additional features of video playback and navigation. Video files stored on any device can be played and navigation function is based on Android's phone's built in GPS and MapMyIndia app.
Bolt is an impressive car from Tata Motors which is  a class apart with innovative features, modern engine, connectivity and comfort. So, Get. Set. Bolt…
 This post is a part of the Get. Set. Bolt. activity at BlogAdda.
Linking this to Write Tribe Pro Blogger Challenge