#CreateFearlessly with Hamilton Beach
When Celebrity Chef and Restaurateur, Bobby Flay,  said "Grilling means good times, good friends, and hopefully, great food", he must have seen KG grilling and barbequing on our charcoal grill outside in the garden or terrace. Grilling meat and vegetables as starters is always on the menu when we have get-togethers at home. While grilled food is a hot favourite during any time of the year, the weather is far from perfect for grilling outdoors, most of the time.
So, when I got the Hamilton Beach Panini Press and Indoor Grill, through Blogadda, I was simply thrilled. I knew that this is one appliance that would be used extensively at our home, all year round.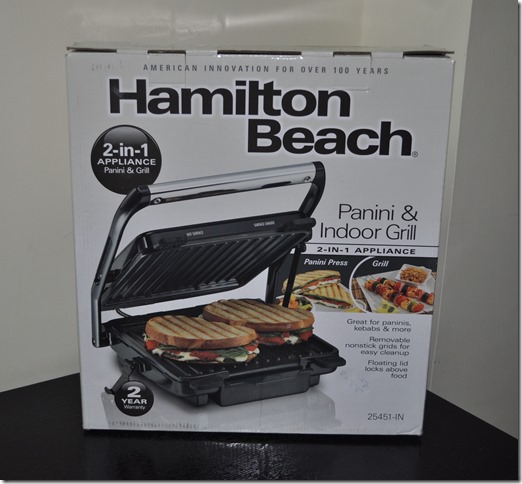 The day we received this Panini Press and Indoor Grill, we had a dinner party at our friend's place. We decided to unbox and use this product at their place. Yes, we are pretty cool that way!
So here's the unboxing video that we shot at our friend's place.
The first dish that we made using this appliance was Marinated Grilled Chicken.
Here's how it finally looked.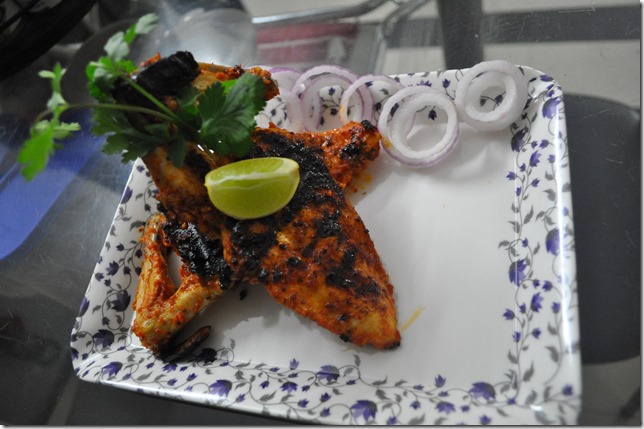 Needless to say, that it was so delicious that we polished off every last bit in few minutes!
Recipe for Marinated Grilled Chicken
Ingredients
1 cup yogurt
2 tbsp red thai curry paste
2 tbsp ginger-garlic paste
2 tbsp lemon juice
1 tsp salt
1/2 tsp black pepper
1 tbsp paprika
1 tsp cumin
1 tsp turmeric
1 tsp coriander
1/8 tsp ground cloves
Bone-in chicken breasts with wing bones
Directions
Spread chicken pieces in a shallow baking dish. In a medium sized bowl, stir together yogurt, red thai curry paste, ginger-garlic, lemon juice and spices. Pour yogurt mixture over chicken and stir to coat. Allow chicken to marinate at least 2 hours (up to 24 hours).
Preheat Panini Press and Indoor Grill. Place the marinated chicken pieces on the cooking plate. Grill for 5 to 8 minutes each side until juices run clear when chicken is pierced. Serve with dressing, if desired.
The second dish that KG made the next morning was Cheese Aloo Tikki Vegetable Sandwich. You know he is the resident master chef of our home!
Recipe for Cheese Aloo Tikki Vegetable Sandwich
Ingredients
3 thick slices of bread
2 Aloo Tikki
2-3 tablespoons Basil Pesto
1/2  Red and Yellow Capsicum
1 tomato sliced
1/2 cup shredded red cabbage
Few rings of onion
2 slices of cheese
Butter
Directions
Preheat panini press.
Grill the red and yellow capsicum, skin-side up, for 10 minutes or until charred and blistered. Transfer to a sealable plastic bag. Set aside for 5 minutes (this helps lift the skin). Peel skin from capsicum and cut into 1cm-thick strips.
Grill the aloo tikkis too.
Spread butter on one side of each slice of bread.
Place 3 slices of bread, butter down, on the panini press.
Place 2 aloo tikki, pesto sauce, shredded cabbage, tomato slices, onion rings and capsicum strips, and cheese slices on each slice of bread and make a two layered sandwich
Close panini press.
Cook for 3 to 5 minutes or until desired brownness.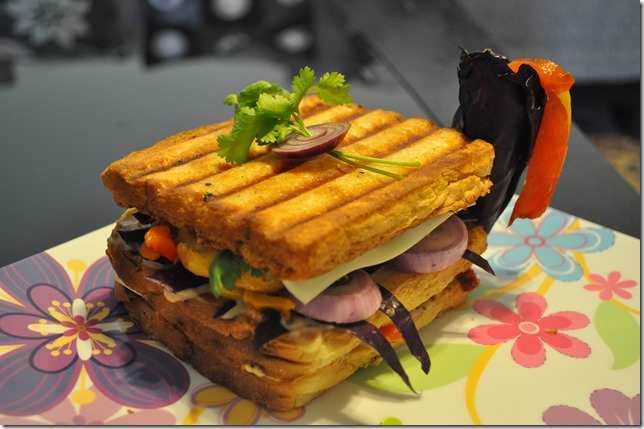 Different types of sandwiches are making an appearance on our dining table and so are the grilled vegetables and meat. And we are so loving it!
This post is a part of #CreateFearlessly activity at BlogAdda in association with Hamilton Beach. Check out exciting videos and recipes by following #CreateFearlessly on Twitter.