E is for Excitement #AtoZChallenge @AprilA2Z
My theme for this year's Blogging from A to Z April Challenge is Feelings and Emotions from A to Z in 55 Words. Today, E is for Excitement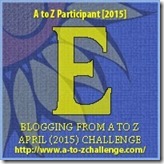 I can hardly sit still. Nor can I rest.
The images of our reunion are playing over and over in my head.
In fact, I'm stunned by the feelings that are coursing through me.
My heart leaps as I hear my name from his lips.
I squeal manically as he kneels to nuzzle my ears.
Join me in enjoying blogs from fellow A to Zers… Eloquent Mind, Elly Stornebrink, Eli Ertresvaag today! Do share some blog love with them too!