P is for Proud #AtoZChallenge @AprilA2Z
My theme for this year's Blogging from A to Z April Challenge is Feelings and Emotions from A to Z in 55 Words. Today, P is for Proud.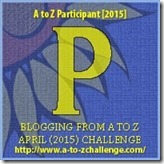 She stares at me with hurt written all over her face.
A lump rose in her throat and her body shook involuntarily.
Tears sting her eyes as she silently pleads to stay back.
A part of me screams, "We're not meant to be!"
And a part of me smiles that she loves me despite everything.
Join me in enjoying blogs from fellow A to Zers… Parul and Prasanna  today! Do share some blog love with them too!