Q is for Quirky #AtoZChallenge @AprilA2Z
My theme for this year's Blogging from A to Z April Challenge is Feelings and Emotions from A to Z in 55 Words. Today, Q is for Quirky.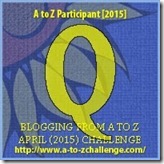 I had to have it right NOW!
I emptied my bag and rummaged through the glove compartment, but it wasn't there.
The craving was so strong that I could not get it out of my head.
On reaching home, I slammed the car's brakes and rushed into the bathroom, to eat my favourite… toilet paper.
Based on a news article I read recently! Check it out here.