R is for Relief #AtoZChallenge @AprilA2Z
My theme for this year's Blogging from A to Z April Challenge is Feelings and Emotions from A to Z in 55 Words. Today, R is for Relief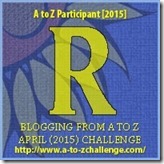 A cold tingling sensation engulfed me.
I knew, if I turned around, I would regret it.
But I turned anyways.
There he was, smiling menacingly at me.
I ran towards the door, but I never got to it..
Heart pounding in my ears, I open my tightly shut eyes…
Aah! It was just a dream!
Join me in enjoying blogs from fellow A to Zers… Rajlakshmi and Ruchi Singh, today! Do share some blog love with them too!