S is for Sarcastic #AtoZChallenge @AprilA2Z
My theme for this year's Blogging from A to Z April Challenge is Feelings and Emotions from A to Z in 55 Words. Today, S is for Sarcastic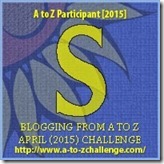 "Where are you? Why are you doing this to me?
I tried to reach you several times.
You aren't ignoring me, right!?!
I called and left voice messages on your phone.
I even poked you on Facebook.", she complained petulantly.
"I would have responded, if Facebook had a STAB button", I muttered under the breath.
Join me in enjoying blogs from fellow A to Zers… Sanch, Shailaja, Shalini, Shantala, Sheethal, Soumya, Sue McPeak, Sulekha, Sundari, Susan Scott, Suzy, Swathi, today! Do share some blog love with them too!