T is for Tantrumy #AtoZChallenge @AprilA2Z
My theme for this year's Blogging from A to Z April Challenge is Feelings and Emotions from A to Z in 55 Words. Today, T is for Tantrumy.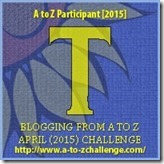 They mock her. They laugh at her.
She pleads. She screams.
"You're no good", they tease.
"Is it my fault!?!", she grieves.
She clears her throat, flexes her fingers and tries again.
They wait in anticipation but turn around and stare blankly at her yet again.
Aah! The hysterics between the writer and her words.