V is for Void #AtoZChallenge @AprilA2Z
My theme for this year's Blogging from A to Z April Challenge is Feelings and Emotions from A to Z in 55 Words. Today, V is for Void.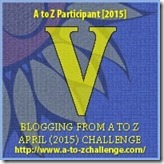 The days passed in a dream. All she could do was think of their reunion.
Aah! The anticipation of the magical moment… it drove her crazy!
He hugged her warmly while she hugged him back fiercely, strongly and closely!
Wanting him to fill into the empty gaps that someone had once left in her heart.
Join me in enjoying blogs from fellow A to Zers… Vinodini, Vinitha, Vidya, Vinay and Vishal today! Do share some blog love with them too!