Z is for Zen #AtoZChallenge @AprilA2Z
My theme for this year's Blogging from A to Z April Challenge is Feelings and Emotions from A to Z in 55 Words. Today, Z is for Zen.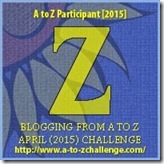 I looked in the mirror and saw a woman with fine lines and wrinkles, freckles and scars… the bulging waistline and hips… oh well!!
Of course, I don't measure up or maybe, I measure a little too much!
But this is who I am and love me for me, and not for somebody else's standards.