Spiralling Some Magic
If you ask anyone in our family about their favourite Italian dish, pasta would rank first followed by risotto and pizza. Pasta makes for a great lunch or a dinner for us. It is not only filling and nourishing but is immensely versatile and can be cooked with a wide range of ingredients. Anything goes well with pasta, right from vegetables, mushrooms, seafood, meat, to herbs and cheese.
For me, cooking pasta at home not only translates into a good meal, but also gives me a holiday from cooking. Yes, KG, my husband, who is a big foodie, loves to cook up a storm in the kitchen, literally and figuratively!
Last weekend, KG created some magic in the kitchen with Del Monte Italian Gourmet Pasta. Oh by the way, I was a part of that magic too, I was hanging out in the kitchen, sitting at the counter with a glass of wine, talking and clicking pictures as he prepared the meal. And of course, I ensured that his glass was never empty.
Today I present, the most perfect meal to make for some amazing dining at home…
Let's peek in our kitchen where KG is spiralling some magic with  Spiralli Pasta and Meatballs in Tomato Sauce
Recipe : Spiralli Pasta and Meatballs in Tomato Sauce
Serves : 4-6
Cooking Time : 45 Minutes
Skill Level : Easy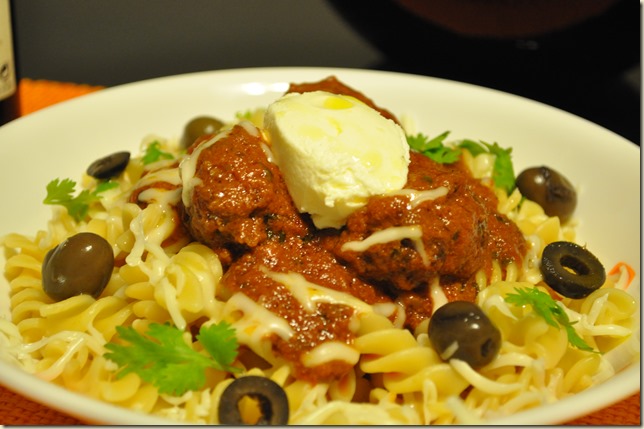 INGREDIENTS
Meatballs
500 gms minced meat
2 medium onions, peeled and chopped
5-6 cloves garlic, peeled and grated
1 egg
A small bunch of fresh coriander, chopped
2 tsp ground cumin
2 tsp paprika
1 cup fresh bread crumbs (We made fresh bread crumbs by coarsely grinding 2 bread slices in a mixer)
Salt to taste
Oil for frying
Sauce
Extra-virgin olive oil
1 medium onion, peeled and chopped
2-3 garlic cloves, crushed lightly with the flat of a knife
200 gms tomato puree
Salt
Dried thyme and rosemary
Pasta
250 gms Del Monte Gourmet Pasta- Spirali (Short pasta rods twisted in a spiral shape)
Garnishing
Parmesan cheese, grated
8-10 Del Monte green/black olives, pitted and cut (Optional)
Parsley
DIRECTIONS
Put all the ingredients of the meatballs in a large dish. With hands scrunch and mix  everything together. Shape the meat into desired shape and size. We made them oval shaped using 2 spoons. Meatballs can be shallow fried in oil or baked in an oven. We tried both the methods.
Fried Meatballs : In a pan, pour cooking oil and heat it on medium flame. Drop the meatballs in the oil gently until they are brown from all sides. You may have to turn them occasionally to get that golden brown effect.
Baked Meatballs : Preheat the oven to 180 degrees Celsius. Grease the baking dish with oil. Place the meatballs in the dish, keeping them apart from one another. Bake for 25 minutes or till brown from all sides. Turn the meatballs with the help of tongs for even baking.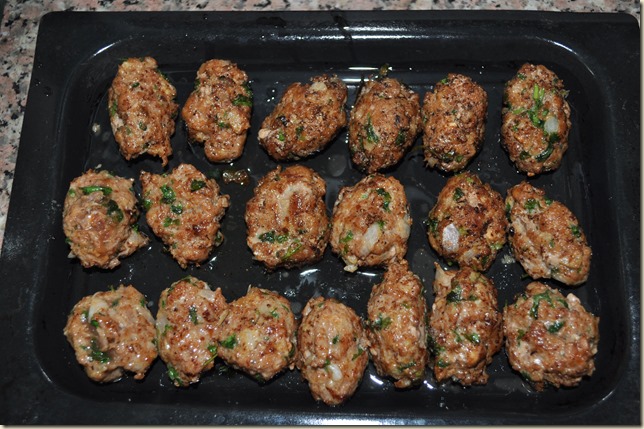 Sauce
In a large pan over medium heat, saute onion and garlic in olive oil until onion turns translucent and garlic is light brown. Add the tomato puree along with salt, thyme and rosemary. Reduce the heat and let it simmer for a 10 minutes. Add the meatballs and simmer it for another 4-6 minutes.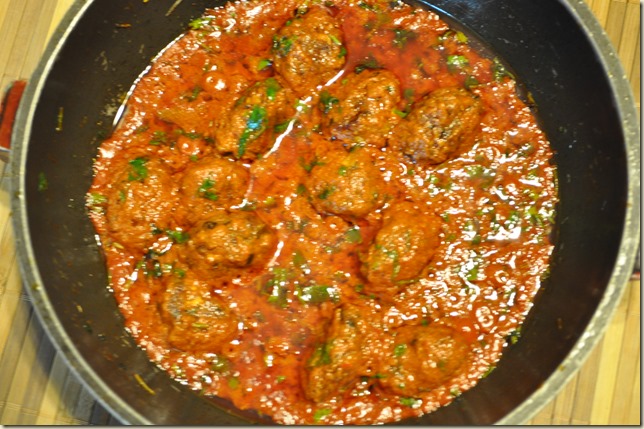 Pasta
In a large saucepan, heat water. Add one tablespoon of salt to the water as it begins to boil. Add the pasta to boiling water and stir immediately to prevent the pasta from sticking together. Cook till  the pasta is firm to bite, yet cooked through. Drain the pasta immediately in a colander.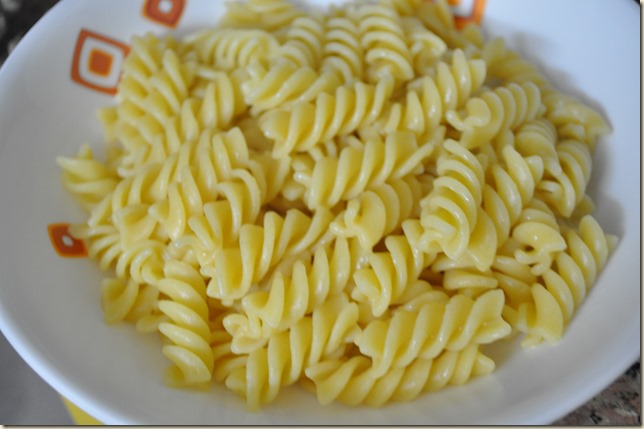 Serve the pasta in a shallow plate. Pour the sauce with meatballs over the pasta. Garnish with grated Parmesan cheese, olives and parsley and a dollop of cream cheese which is purely optional. Drizzle some olive oil too.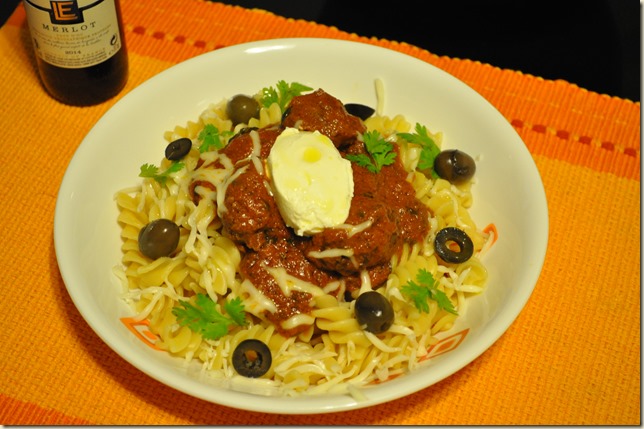 Aah! This tasted absolutely heavenly and yum!!
I have written this post for  Indiblogger and Delmonte IndiEscapades Contest. You can check Del Monte's Official Facebook page and stay updated for latest products and new food.