What to do When there are Too Many Things to Get Done
My To-Do list for today is longer than my arm. I am swamped with work and have so many deadlines to chase. And it is making me all panicky! I have been up since wee hours of the morning and haven't accomplished anything of importance. I am finding it really hard to focus on one thing and am not even able to prioritize. And this is when I have a list of things to do right in front of me.
One moment, I want to do X task and I am abandoning it the next moment to look at data for a client presentation. And then there are constant beeps from my phone about the End of Season Sales SMSs, Retweet messages, Likes and Comments on a post from Facebook, emails, whatsapp messages and all this cannot be ignored, right! As I type this, the buzzer of my washing machine has gone off, which means that I need to rush to take off the wash load and put it out for drying before the Sun God goes and plays hide and seek with the Rain God! I am constantly looking at the watch, as the house help has not turned up as yet and it is way past her regular time. If she does not turn up and if I end up doing her work too, I will be seriously derailed from the work timelines.
And then, I have to write this post too, as I am co-hosting #MondayMusings with Corinne, for the first time. This post should have been up at midnight last night, but the grey cells and the fingers refused to coordinate and hence, a blank document stared at me for a long time, till I gave up and decided to sleep over it literally and figuratively!
What to do when there are too many things to be done and nothing is getting accomplished? This question is ringing in my head for a while now!
I am amazed that an otherwise organised me, believe me, I am pretty disciplined regarding my work , is struggling to get tasks ticked off from my To-Do list today! I am realizing that I have not done any productive work today. I am just killing time. I don't know if this is one of those days or I am doing something wrong.
And then I came across, this infographic. It has 7 pointers that destroy productivity. From these 7 pointers, I am guilty of doing 5 things except for point no. 2 and 3.
These are simple things, and I am aware of all these time wasters, but still till I got nudged and shaken by this infographic, I couldn't bring myself to unplug from the social media, and mute the distractions from phone and stop being a multi-tasking diva.


Image Courtesy : Source
Aha! Avoiding these simple time wasters made me complete this post in record fifteen minutes.
As you chew and digest these productivity killers, I am off to  annihilate the tasks in my list!
You all have a productive and satisfying week ahead!
What do you do when there are too many things to get done? Share your tips and experience!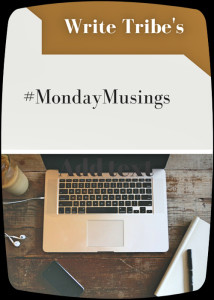 Join Corinne and me by writing a #MondayMusings post on your blog. Write a post sharing your thoughts on a subject of your choice. Make it as personal as possible. Use the hashtag #MondayMusings and then add your link to the linky below. Do remember to visit the other blogs linked here and begin by reading the #MondayMusings on Write Tribe and Everyday Gyaan. We would love to read your thoughts.