Sweet Revenge
Title: Sweet Revenge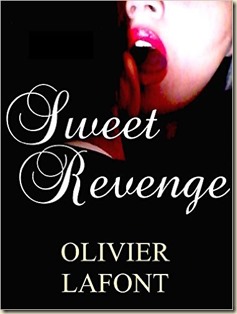 Author: Olivier Lafont
Publisher: Freebase Books
ASIN: B0155HBCDG
Number of Pages: 121
Price [INR] : 265
Genre: Contemporary Romance
If revenge was a dish best served cold, then French Adonis Guy Leguerec knew exactly what to serve treacherous and desirable Eve Watson…

Seven years after Louisiana, where Eve devastated his heart and ruthlessly wiped out his future, Guy finds her in Boston opening her first art showing. Now a wealthy and powerful shipping magnate, Guy lures Eve into his trap of seduction and opulence, intent on one thing only: getting revenge for her crimes.

When American artist Eve Watson sees the only man she ever loved enter the art gallery, and re-enter her life, she feels helpless terror and frenzied desire. Seven years ago Guy Leguerec had seduced her heart, exploited her body, and then discarded her. Against her better judgment she accepts his invitation, and once again they spiral into a maelstrom of irresistible passion, divinely rampant sex, and the brutal politics of unknown intentions…
Violently sundered by their volatile misconceptions, Eve flees Boston in emotional tatters, and Guy grudgingly lets her vanish, his revenge thwarted.

But destiny has planned otherwise: Eve has taken an art job in Paris, ignorant of the fact that the company is one of many subsidiary businesses belonging to Guy. Flung together again in an even more precarious position, Eve and Guy must war with each other and themselves, and confront seven years of misapprehension and malign manipulation. Greed, family vendetta, and deception have eaten away at the intimacy they once shared — But is the truth enough to save their desperate, shipwrecked love?
If you are on the fence about whether or not to read this book because of the cover that gives the impression of it being an erotica, well, you can relax and start reading it.
Former lovers Guy and Eve meet after 7 years. Some misunderstandings cause them to go separate ways and now that they have met, revenge is on his mind. The revenge turns out to be a bit tangled than his expectation and that's because their resurgent feelings surface and create a sweet havoc in their lives.
I was expecting a typical romance, but this story has so much heart and emotion. I liked that it wasn't totally predictable and there were a few twists and turns that made it a page turner for me. This book has some good story telling which is emotionally charged with uber yummy, tough, to die for alpha hero, the strong, intelligent, capable, genuine heroine, the believable, passionate connection between the head and the heart, the hot, intense love scenes, and the heart-warming HEA. The author has created characters that you get attached to and seem very real, while weaving an intricate and emotional web that is their lives.
The ending is a bit melodramatic for my taste. I know, I am getting old. I guess, I wanted something more and more intense than what I got in the book. Nevertheless, it is an ending that will make you smile and warm your heart.
Sweet Revenge is all about second chances in life and love. Go for it, you will enjoy it.
This Tour is Hosted by