Connect Meaningfully with Affimity
Everyone has friends on social networks who post too often and flood the news feed with annoying memes, take too many selfies, post hundreds of pictures of their babies, dogs and cats, ask for power and what not for their online games, share the same post in a hundred different groups and then share random updates all throughout the day… All you see is a lot of clutter and noise on your screen. And it makes you go arghh to ughh to a yawn to a face-palm in a matter of a few seconds! Sounds familiar!?!
Well, we all know that it's because that most of the things shared by your 'friends' do not interest or appeal to you.
What if your social networking feed consisted of topics that are meaningful to you? What if you connect on a social media with like minded people, people who share your interests or passions?
Well, you now have a social networking site that addresses just these concerns.
Affimity is new social network, re-imagined as a collection of interest-specific social channels. It is actually like the television of our current times. Remember the time when we had a few TV channels that had all types of programs on them. And now we have various channels that are interest-specific viz entertainment, news, travel, food, history, comedy, children, saas-bahu sports, and Hindi and English movies etc.
Affimity which is Passion (Affinity) and Friendship (Amity) has news feed which is categorized into different channels. Based on your interest, you can select the various channels. Currently, Affimity offers the following channels… Food, Movies, TV Shows, Celebs, Book Club, Music, Career, Parenting, Fitness, Random Thoughts, Gaming, Digital Life, Wearables, Allergies, At Home Moms, Working Moms, Tennis, Motor Sports, Football, Cricket, Bollywood, US Politics, Beauty, Swifties, Travel, DIY, Fashion, NFL Mania, Space, Everyday Science, Holidays, Lawrits, Comics, Starkids, Immigration, Insurance, India Vents, India Humour. That's a pretty comprehensive channel list, isn't it?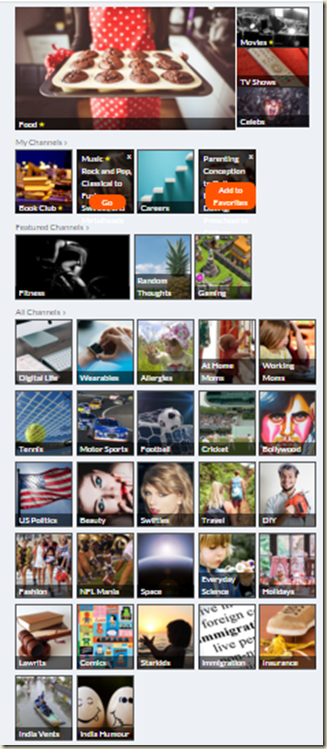 You can add your favourite channels. Once you select any channel, you will read, post and share all the Buzz, New feeds, Top Picks and Questions pertaining to that subject. The best is that you can select as many channels as you want and get info, news, recommendations and thoughts on that subject at one place.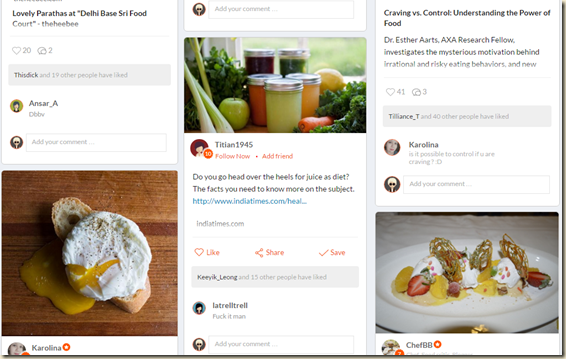 Here are a few things that appealed to me about Affimity
You have control over the content in your news feed. You get to read and share info that is relevant to you.
You get to meet and be friends and have followers in like minded people who share your interests and passions. You can engage meaningfully with them through comments and likes. For instance, you can connect with me on Affimity on the Food, Movies, Book Club channels.
You can share posts of interest on other social media viz Facebook, Twitter, Google+ and email.
The mobile app of this site makes it convenient to be connected when on the go too.
You can post, ask a question or take a poll or upload a picture or a video on any channel of your choice. If Food is your passion, you even get a readymade template for sharing your recipe.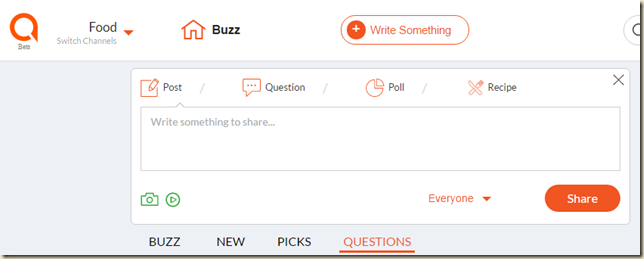 Affimity is a cool place to hang out with like minded people. Go on and experience it. Highly recommended.