Sands of Time
Title: Sands of Time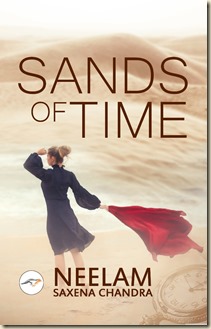 Author: Neelam Saxena Chandra
Publisher: Panther House
ISBN: 978-81-932011-0-7
Number of Pages: 127
Price [INR] : 199
Genre: Fiction
Time is a magician. Sometimes, it acts like a soothing balm for healing the aching hearts of women and at other times, it teaches people living around her to adapt. And at some other times, it teaches people living around her to adapt. And at some other instances, time also brings with it punishments, penances and penalties. The book 'SANDS OF TIME' will take you through various such emotions in the twelve stories which it contains: tales that will make you smile, tales that shall raise your hair, tales that will make you hate and tales that will make you fall in love with all the protagonists.
Sands of Time is a collection of 12 short stories centred around the lives of ordinary women in different circumstances. The lives and situations of these women are simple and may even appear to be unremarkable. The protagonists are every day characters with their regular struggles, setbacks and disappointments. These characters despite the challenges that life has thrown their way, not only endure and survive but show the triumph of will and spirit over strife and adversities and that's truly remarkable. These 12 stories capture these women in various moods and emotions through the sands of time.
This collection of stories touches on subjects of women empowerment, their need for freedom, awareness, education and standing for their own rights. Though these stories convey great messages and are written in a simple and lucid style, they failed to touch or hold the reader in me captive or engrossed. And that's because, the stories, the mood and the emotions in Sands of Time were told rather than shown. In fact, the stories read like short essays. And this really didn't work for me. Some of the stories had a hasty and abrupt ending which was disappointing too.
Sands of Time is an okayish quick one time read.
Facebook | Website | Blog Tours | Twitter | Pinterest | Linkedin