Super Women
Title: Super Women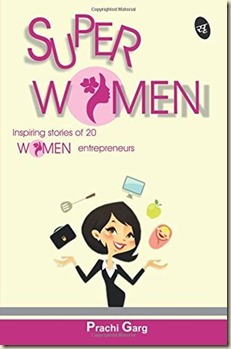 Author: Prachi Garg
Publisher: Srishti Publishers & Distributors
ISBN: 978-93-82665-63-2
Number of Pages: 155
Price [INR] : 175
Genre: Non-Fiction
Inspiration and opportunities are everywhere. There are few who grab them with both hands and make them work for them. India is seeing a tremendous growth in businesses which are based on novel concepts. And women are not far behind in proving that they have vision and skills to be innovative business leaders.
Super Women, written by Prachi Garg has inspiring stories of 20 women entrepreneurs.
These 20 women with their determination, passion, skills and creativity have proved themselves in varied and diverse business ventures. Right from supporting victims of acid attacks (Ria Sharma from NGO Make Love Not Scars), to providing free skin care solutions( Dr Surbhi Mahajan from Dermatocare); from online retail of lingerie (Richa Kar from Zivame), handmade bags (Rachana Nagranee from Pitaraa) and fashion accessories( Masoom Minawala from Style Fiesta), to eco-friendly products of everyday utility ( Swati Maheshwari and Sunita Jaju from Rustic Art); from pet care products( Rashi Narang from Heads Up for Tails), to quirky merchandise (Sneha Raisoni from Tappu ki Dukaan); from empowering folk artists(Medhavi Gandhi from Happy Hands), to providing clinical assistance to those going through tough times (Richa Singh from D.O.S.T); from image consulting (Geetika Chadha from Imagenie) to house hunting (Pankhuri Shrivastava from GrabHouse); from arty solutions (Alicia Souza), to innovative marketing and corporate communication (Sneh Sharma from Ittisa, Tina Garg from Pink Lemonade, Vidula Kantikar Kothare from Think Creative AdSolutions ; from creating happy readers (Falak Randerian from My Little Chatterbox) to making religious ceremonies simpler (Saumya Vardhan from ShubhPuja), these young women have taken the path less travelled. And in doing so, they have not only created a niche for themselves in these unchartered territories but have also inspired and empowered so many others.
The book gives some detailed insights on the business models of these companies, the innovation they brought about in their field, their vision and goals, the balance between their personal and professional lives, the journey so far and their future plans. It also shares the challenges and opportunities these young women entrepreneurs faced during the course of time.
Super Women is about those women who took a different approach in life, stood against all odds and made their dreams come true. Super Women makes for a fascinating and an inspiring read which is written in a clear, concise and organized fashion.
It was good to see fellow bloggers Falak Randerian and Swati Maheshwari featured in the book! Kudos to you girls!
Go on and check out Super Women and be encouraged and inspired!