Color Me Rich
Title: Color Me Rich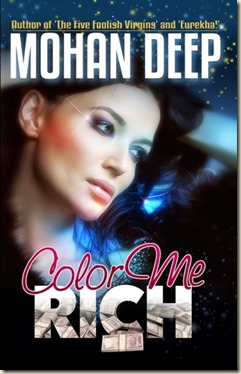 Author: Mohan Deep
Publisher: Quest Mercury Intermedia Pvt Ltd
ISBN: 978-81-926785-2-8
Number of Pages: 185
Price [INR] : 200
Genre: Fiction
Despite opposition from his parents, Akash Saigal comes to Mumbai to follow his passion and that's painting. But it's not an easy road and is the one that's filled with struggles and challenges. As he tries to paint and barely manages to make ends meet, he finds friends in Pran, a struggling actor, Suma, an aspiring singer and Rani Aunty who runs Bollywood Aunty's Dhaaba.
Sharing a flame as they light their cigarettes in an art gallery while discussing his painting, Akash fell in love with out-of-the-world beauty, wealthy artist and art collector, Zenobia Taraporevala. And before long, they tie the knot.
Akash's life changes dramatically. While his career skyrockets he finds that his personal life is falling apart. And soon he is accused of killing his wife.
Color Me Rich is a rags to riches story of a struggling talented artist Akash Saigal who takes the path to success by marrying the rich, Zenobia Taraporevala.
The book delves into the lives of the creative and the super rich people and raises a few questions like… Can marriage between unequals work? Can an artist create on an empty stomach? Do the creative juices flow more easily when one is not trapped in the worries of the next meal or next pay cheque?
A chapter from the past, labelled as Yesterdays is immediately followed by a present day chapter labelled as Today. So, the story flits effortlessly between the past and the present in Color Me Rich. The author has done some comprehensive research to give an interesting peek into the life of the super rich and the protagonist's life as a struggler has an authentic and realistic feel. All the characters whether Suma or Pran or Rani Aunty including Akash and Zenobia are etched out beautifully. Their characterization is wonderfully thought out and well written and reading this book is almost like peering into their minds.
What I liked about Color Me Rich is that it expertly grabbed my attention from the word go and the fact that it is a short story made me finish reading it in one sitting. Also it has all the ingredients of love and betrayal, struggles and triumphs, murder and mystery that delighted and enthralled me as a reader. And most importantly, a climax that truly shocked me.
Overall, Color Me Rich is an engaging and entertaining read. Go for it!

Facebook | Website | Blog Tours | Twitter | Pinterest | Linkedin