You Are The Best Wife
Title: You Are The Best Wife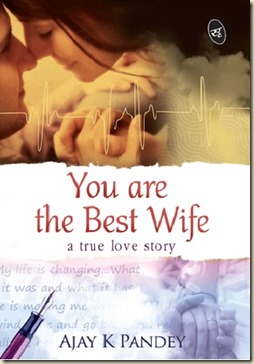 Author: Ajay K Pandey
Publisher: Srishti Publishers & Distributors
ISBN: 978-93-82665-54-0
Number of Pages: 240
Price [INR] : 175
Genre: Fiction
Death ends a life, not a relationship. Even when someone dies you will still have all of the memories you made with them, you will still love them even though they're not there to show it to, and you will always remember them for how they touched you or inspired you in your life.
Author Ajay K Pandey has done all that and immortalized his love for his wife Bhavna in his debut book You Are The Best Wife .
You Are The Best Wife is a true love story of Ajay and Bhavna who studied Engineering together at IERT, Allahabad. He believed in living for himself and she taught him to live for others. He planned for everything in life while she made him live in every moment. Theirs is a love story of two people with contradictory ideologies. In this book, Ajay reminisces about his college life, how he met, fell in love with and married Bhavna. And also how they shared a few blissful married years until fate intervened and took Bhavna away from him forever.
Heartfelt, honest and simple is how I'd sum up my view about You Are The Best Wife. Written in first person, the book makes for an engaging and interesting read. And that's because of the humour which is mostly self deprecating , the frankness about his shortcomings and failures and honest writing . The book is based on his intense personal loss, yet he chose to write the story in a humorous tone… well, that's quite commendable. You Are The Best Wife is all about love and loss, living and learning the harsh realities of life.
At times the story reads like a journal which has every little detail of their daily life. The story is written with a passion and tugs you at heart because of its emotional narrative, so the language errors/issues at a few places can be brushed under the carpet.
You Are The Best Wife is a simple, straightforward and true-to-heart story that will touch a chord with every reader. Check it out to think and ponder about the unpredictability and uncertainty of life and how we can cherish each and every moment with our loved ones!
"This book review is a part of The Readers Cosmos Book Review Program and Blog Tours. For details long on to http://thereaderscosmos.blogspot.in"