Raakshas
Title: Raakshas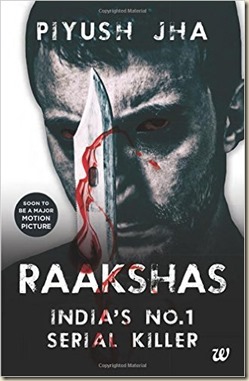 Author: Piyush Jha
Publisher: Westland Books
ISBN: 978-93-85724-20-6
Number of Pages: 233
Price [INR] : 295
Genre: Fiction
Victims of circumstances in the past have two options, either they can continue feeling sad, scared, miserable or angry and seek revenge thereby becoming victimizers themselves or they can break the chains of negative thoughts and choose to deal with mistakes, tragedies, and trials to ensure that no one else goes through the same.
Scarred and scared by traumatic past, the two protagonists of Raakshas chose two different paths. One went on to become India's No. 1 serial killer and the other a crusader of law and order. Who will be the victor between this battle of good and evil?
The city of Mumbai sees an unusual rise in bizarre and gruesome murders. Multiple victims, all young girls and women, surface all around the city. The killer leaves his unique signature on the crimes he had committed and his notoriety grows. The Additional Commissioner of Police, Maithili Prasad spearheads the greatest manhunt in the history of Mumbai city. But the killer with a high IQ is a step ahead of her and is clever enough to not get caught. The killer enjoys as the media scrambles to showcase his sensational crimes, but is unhappy as he is not recognized for his genius and is not declared the country's no. 1 serial killer. Will the Mundi-Cut Killer as the media dubs him, ever be caught?
This book grabbed my attention like no other in the recent past. I just sat and turned page after page as the story gripped me from the word go. Raakshas with its intense story line kept me in the edge of my seat and got me all anxious to see how it would end. The inhumane treatment, the atrocities and abuse along with blood, guts and gore kept me hooked and intrigued. The mystery and suspense and the desire to know the answers made reading Raakshas a thrilling roller coaster ride.
This ride despite being racy, raised questions like what makes a serial killer? Are the reasons physiological or psychological or both? Are they born with homicidal tendencies? Does a traumatic childhood make them criminally insane? How the mind can adapt and fight to stay alive?
The background of the killer and the barbaric treatment and cruelty that was meted out to him as a child, sounded a bit unbelievable initially, but that's how criminals are made or born. It could be due to genetic predisposition or environmental cues.
A section at the end of the book which had spine chilling account and stories of India's least known serial killers gave me many creepy moments that nightmares are made of.
Raakshas is a chilling, disturbing and suspenseful thriller that is recommended to fans of this genre.
One of the best reads in a long time. Thank you, Piyush Jha.