A Thousand Unspoken Words
Title: A Thousand Unspoken Words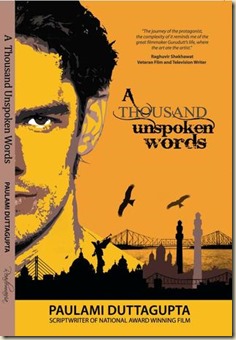 Author: Paulami Dutta Gupta
Publisher: Readomania
ISBN: 978-81-929975-9-9
Number of Pages: 213
Price [INR] : 250
Genre: Fiction / Romance
Someone needs to fight for the cause, someone needs to raise his voice, someone needs to inspire. And that someone is a hero. But what if that hero falls off the pedestal. A Thousand Unspoken Words is the unique journey of a hero who falls.
A Kolkata based writer who uses the nom de plume Musafir is attacked for raising voice on the social and political scene in Bengal. The incident shakes him and he leaves the ideals he believed in so passionately a while ago to pursue money and fame and the accompanying comforts. And thus the fire-brand hero falls.
But Tilottama, passionate fan's hopes don't. When he comes back after many years as Riddhimaan, emotions, love and lust take charge and an affair brews. Will she bring back her hero? Will he rise again? Or will the thousand untold words, the many stories of the ideal writer be lost forever?
A Thousand Unspoken Words is classified as a Fiction / Romance, but it is far from the regular mushy love stories. It is actually a journey of self discovery for not only the protagonist, Musafir/Riddhimaan but also a path of reflection and transformation for other characters too. For Musafir/ Riddhimaan, it is a quest to find out which one of these two identities is the real self while Tilottama, reflects and delves whether she should be searching for Musafir in Riddhimaan?
One of the highlight of A Thousand Unspoken Words is its strong characterization. The characters Riddhimaan, Tilottama, Krishnakoli, Shoumu Sen and even the minor characters like Mimi and Rajdeep are multi-dimensional with many layers. They are not perfect and have flaws and weaknesses that lead them astray, yet these same flaws and weaknesses make them realistic and relatable. .
Although by no means a light or easy read, for on one hand there is a man who is grappling between his ideals and materialistic gains and on the other side, the woman is torn between her love for a man whom she idolized for years and her husband who is a contrast to his earlier ideologies, A Thousand Unspoken Words is a compelling read!
The writing in A Thousand Unspoken Words is crisp and engaging, which makes the story flow effortlessly. However, at places the story was ambiguous. For instance, I wish there was more on what led Musafir to leave his ideologies and succumb to the world of name, fame and money. Or the climax which is open to many interpretations.
A Thousand Unspoken Words is an intense and intelligent piece of writing. Check it out!!

Facebook | Website | Blog Tours | Twitter | Pinterest | Linkedin