An Autograph for Anjali
Title: An Autograph for Anjali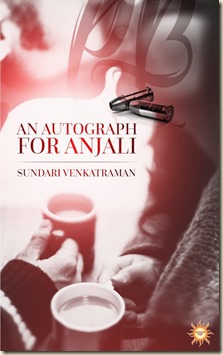 Author: Sundari Venkatwaman
Publisher: Flaming Sun
ASIN: B01CM794TG
Number of Pages: 303
Price [INR] : 180 (Kindle Edition)
Genre: Romantic Thriller
Jayant Mathur is found murdered in his bed, shot at point-blank range with his own revolver. Though she's extremely disturbed by his death, Jayant's wife Anjali is way more upset about something else. Who stands to gain by killing the multi-millionaire businessman?

Parth Bhardwaj is a friend and neighbour of the Mathurs. Parth is an author who goes by a pseudonym. He appears more than a friend to Anjali; while he's also on good terms with her son Arjun who lives and studies in the UK. What role does he play in Anjali's life? Jayant's relatives are curious to know.

Jayant's brother-in-law Rana is convinced that Parth and Anjali are the murderers. But Inspector Phadke has his own doubts about this theory. In comes Samrat, the private detective who appears as quiet as a mouse. Will he be able to find the murderer?

Will Anjali find happiness and peace?…
I have read all books written by Sundari Venkatraman and let me tell you that she has written quite a lot! After every book, I told her that the new book was better than her earlier books. And did I have the same opinion after I read An Autograph for Anjali? Well… Yessss!! Sundari has outdone herself and it is amazing to see her grow as an author with each book.
While her earlier books featured in the romance genre, with An Autograph for Anjali , Sundari stepped out of her comfort zone and explored murder and crime along with romance. Like her earlier books, An Autograph for Anjali is a woman centric story. It is actually a coming of age story of Anjali who has it all in life but the things that would make her really happy. It's her journey of drawing on her inner strength and power and finding her self despite the challenges that life throws her way.
The story starts with the murder of Jayant, Anjali's boorish and philandering husband. As the investigations progress, the story pulled me in and there was no stopping till the very end. During the course of time, we get to know about Anjali who is intelligent and strong but is bored and lonely and is treated like a dumb and a doormat by her multi-millionaire husband. When love from Parth, the oh so wonderful writer, comes knocking on her door, her conscience pricks her and she struggles with the emotional impact of her act. And then there's Arjun. Oh, I simply loved the relationship Anjali shared with her son, Arjun. I certainly aspire to share that honest, open, fun and mature relationship with my son too.
The romance has been woven in this whodunnit so cleverly and beautifully. The love scenes were not just steamy but were simply scorching. I could feel the heat between Anjali and Parth flowing out from the pages!!
An Autograph for Anjali is an excellent page turner as a mystery laced with romance. Though the murder and the suspense behind it kept me engaged and guessing for a long time, it was the romance that shined through though in the end. The mystery actually fizzled out in the climax and became secondary to romance. But as a reader, An Autograph for Anjali worked for me.
An Autograph for Anjali is a fast paced, breezy and fun read. Go for it, you will enjoy it!


Facebook | Website | Blog Tours | Twitter | Pinterest | Linkedin