Encounters – Someone's Always Waiting
Title: Encounters – Someone's Always Waiting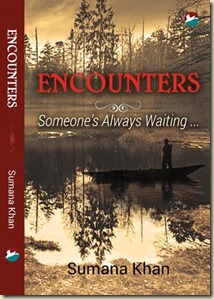 Author: Sumana Khan
Publisher: CinnamonTeal Publishing
ISBN: 978-93-85523-18-2
Number of Pages: 158
Price [INR]: 299
Genre: Short Stories
Life is but a series of encounters—with people, places or even memories. Have you had an encounter that's spun your life out of control? An encounter that's changed you irrevocably?

Encounters is a potpourri of five sumptuous stories involving a motley crew of protagonists—from a simple agarbatti salesman to a dynamic psychiatrist, from a forensic analyst to a retired accountant. Skating along the borders of fantasy and paranormal themes, the stories track incredible and poignant journeys of self-discovery, tracing the cathartic aftermath of fleeting encounters.
I have read Sumana's first book, The Revenge of Kaivalya, a paranormal thriller and had enjoyed reading it. When, I got an opportunity to read her second book, Encounters, I grabbled it with both hands. And am I glad that I picked it up?
Encounters is based on paranormal – fantasy fiction theme and is collection of 5 short stories. Each of these stories are written in the author's incredibly impressive style which is so very captivating. Right from the stories which had some amazing surprise endings to the characters, the narrative, the language, the editing, Encounters has it all right, thus making it a delightful read.
'First Love' is a story that many can relate to. It's about a woman who is an achiever in her chosen field of forensic science, yet struggles to find peace and respect from her family because she is 32 and unmarried. She finds love, comfort and support in a mysterious and supernatural being. Is that supernatural being real or is just her figment of imagination? This one is one thrilling and fascinating story.
'The Storyteller' gave me goose flesh! An agarbatti salesman finds himself late in the evening in a shanty on a deserted road. A man narrates the story of a village that was wiped away by the tsunami. In the morning, the salesman finds himself all alone with no trace of the shanty or the man. Who was the storyteller and why did he share his story with the salesman? Well, you need to read this one to feel dazed and amazed.
'Reminiscence' is a four decades long journey of Radha and Raghavan as a couple. The story gives a peek into the life of this middle class family and their struggles and triumphs. A regular story but with an ending that will truly surprise you.
'Happiness Clinic' is the journey of an old man who finds himself lost, beaten and defeated after his retirement. He meets a doctor at a Happiness Clinic who helps him change his outlook towards life only to find something that leaves him gasping for breath. Apart from the mysterious twist, what I also liked about 'Happiness Clinic' is that it gives a lot to think and chew on too, to make a life that is remarkable, positive and happy not only for ourselves but even for those around us.
'Best Friends Forever' is my favourite story from this book from the paranormal chills and thrills point of view. This is an intriguing and spellbinding of a young girl Prerna who due to some scarring episodes in her childhood finds solace in the company of the spirit of Alice who died years ago. When her parents take her to consult Dr Srinidhi, a psychiatrist, he realizes that this is not a simple case. Is he able to help Prerna and how does he do that? You certainly need to read this story to get some real spooky, eerie and spine chilling thrills.
The entire collection of stories in Encounters make for a very entertaining and interesting read. The characters and their lives are realistic and the author's expression make them come alive in front of you. The stories which deal with a few social issues that make you think and ponder on them too.
Encounters is highly recommended for a quick, entertaining and thrilling read.

Facebook | Website | Blog Tours | Twitter | Pinterest | Linkedin