Datsun redi-GO : The Ultimate Urban Cross
"The car has become an article of dress without which we feel uncertain, unclad, and incomplete in the urban compound." Marshall McLuhan
Cars have become an integral part of a wider transport network, in fact they form a large part of the growing "urban" culture. Recently, my cousin GT, who completed a year of work after studies expressed his desire to buy a car for himself. With so many new cars flooding the Indian market, he really could not figure out which car would work best for him. We had a discussion on the pros and cons of the various new models, till KG suggested that he should go for a car that defines him. And that got everybody thinking. After some brainstorming, we came up with some ideas for a car that would gel well with his personality and lifestyle.
GT is from a generation that believes in going all out to get more out of life, and believes in challenging the norms of the society. He is from the generation that is always on the go and believes in doing a lot more in life. So, a car that would strengthen his sense of freedom, a machine that gives him the confidence to go further ahead in life, one that's full of fun and life, just like him, should be his first four wheel drive.
And we found a car that defines just that! Yes, that's the Datsun redi-GO.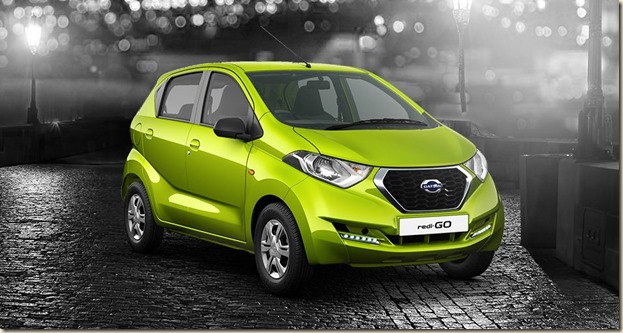 Coming from the house of Nissan, Datsun redi-Go is an unique fusion of compact crossover & urban hatchback, offering the best of both worlds. While the boys oohed and aahed on it's superior i-SAT (Intelligent Spark Automated Technology) Engine along with its impressive fuel economy and ultimate manoeuvrability, I liked it because of its unique combination of style and comfort.
Modern Design Exteriors : Datsun redi-Go has styling that is anything but conventional. It is compact and sleek, and yet has an aggressive and robust stance which gives it an impressive room and a sporty attitude.
The heightened stance on the Datsun redi-GO puts your head and shoulders above those around you. So, you can enjoy a wider view of the road and the surroundings.
The high ground clearance of 185 mm helps you deal with low obstacles that you may encounter on the roads.
Sporty and Classy Interiors : Datsun redi-Go is pretty spacious . A family of five can sit comfortably and there's ample space for luggage too.
The dashboard is pretty modernistic and fabric inside the cars is inspired by sports cars which provides an energetic feel with premium comfort.
Radio, CD, MP3, USB, Aux-in – it's all here in one convenient audio system.
Comfort Drive : With the mercury breaking all records in our desert state, superior air conditioning is a must in a car. And Datsun redi-GO has precisely calculated air circulation which ensures that the passengers are comfortable inside, irrespective of the outside temperatures. And am I glad for this feature!
The 5-speed manual transmission gives smooth control, with precise shifting for a more seamless response to the demands of the roads. The easy-to-read shift indicator shows the ideal time to shift for maximum efficiency and performance.
Datsun redi-GO is a drive computer, as there is instantaneous and average mileage, distance to empty, fuel remaining, and much more is displayed right in front of your eyes.
I'd love to go on a test drive on the wide and smooth JLN Marg or the Jaipur-Ajmer super expressway or the Jaipur-Delhi highway to check out its engine performance, fuel economy and air conditioning. And yes, also in the narrow by-lanes of the wall city of Jaipur, where driving and manoeuvring a car is pretty challenging. So, I'd like to check out Datsun redi-GO's 4.7-metre turning radius.
I am sure, Datsun redi-GO will be the car for the young, for it spells…
Fun. Freedom. Confidence. The ultimate Urban Cross – Datsun redi-GO – the capability of a crossover with the convenience of a hatchback.