Catch Up On Growth
As parents, we all want the same things for our kids. We want them to grow up well in every way, to follow their dreams, to find success in life. Right from the beginning, we try to give them the right start.
We are so concerned about their health and well being that we give them the right nutrition and follow the growth charts of our kids pretty seriously. We monitor their height and weight, month after month religiously.
But what if despite our best efforts, our child is not racing up the growth charts? I am sure, feeling anxious would be the most common feeling for most of us. We may wonder, "Is my child growing normally?"
Some children have weight and height or rate of weight and height gain which is significantly below than that of other children of similar age and gender. These children seem to look smaller, weaker or shorter than other children of same age.
There could be a lot of reasons for the children to have delayed growth. As parents we need to ask ourselves a few questions.
Is the child eating enough? Some children are fussy eaters, so they may be not be eating adequately and getting the desired nutrition necessary for ideal growth.
Do the child's meals have too little growth or energy foods? Different stages of the life cycle dictate differing nutrient needs. To develop to their optimal potential, it is vital that children are provided with nutritionally sound diets. Do their diets contain foods that help them grow as per their growth rate? Children who aren't getting the nourishment they need will not gain optimum height and weight.
Is / Was the child sick? Certain illnesses can also prevent weight gain. While after an illness, the child needs to eat more than usual to regain the weight lost and to replenish energy and nourishment. If the child is frequently ill, he or she may need more energy and nutrient intensive diet.
Is the child neglected or abused or has undergone mental trauma? Research has shown that children exposed to violence or abuse, if left unaddressed or ignored, are at an increased risk for emotional and behavioural problems. Possible emotional and behavioural effects of trauma include eating disorders and troubled sleeping which are not conducive for proper growth and development of a child.
If these issues are not addressed, the child may miss out on growing normally as per the standard growth charts. His physical, mental and social skills may be delayed too.
Despite this setback in growth in early childhood due to whichever reason, specialised nutrition can help to get the growth in terms of height and weight back on track.
A child falling behind on growth requires higher than average levels of nutrition to catch up on their growth and development1,2 which is where Horlicks Growth+ can help. Horlicks Growth+ is a break through nutrition formula designed by international paediatric experts and contains high quality protein with added nutrients that have been identified and known to support catch up growth in children with lost growth.
Horlicks Growth+ has been designed and tested by experts, and is proven to increase height and weight in 6 months1. In fact, this balanced nutritional supplement has been developed to optimise growth without causing obesity in children.
Horlicks Growth+ offers advanced nutrition for growth and development of children aged 3-9 years. It is clinically proven to help children catch up on weight and height in only 6 months1.
Catch-up on lost growth with Horlicks Growth+ which is a unique health drink. Horlicks Growth+ naturally contains essential amino acids and immunity boosting nutrients like Vitamin A, C and D. It contains high quality whey protein. Horlicks Growth+ is available in creamy Chocolate or smooth Vanilla flavour and can be enjoyed hot or cold.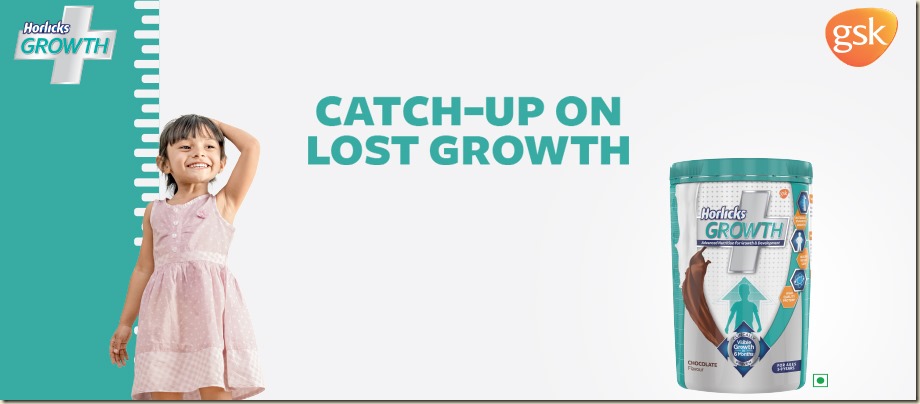 Image : Source