Ramayana – The Game of Life : Stolen Hope
Title: Ramayana – The Game of Life: Stolen Hope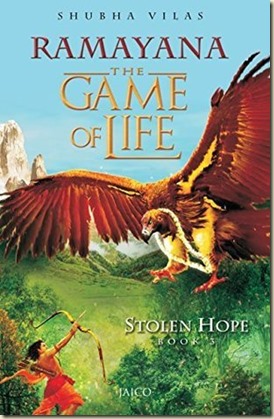 Author: Shubha Vilas
Publisher: Jaico Publishing House
ISBN: 978-81-8495-824-9
Number of Pages: 312
Price: 299 [INR]
Genre: Mythology
Stolen Hope is the third book in the series of six volumes titled "Ramayana: The Game Of Life."
I have read the first book in the series, Rise of the Sun prince which is the divine story of Lord Rama from his birth up to his marriage. Shattered Dreams, the second book in the series is about King Dasaratha sentencing Rama 14 years of exile because of a promise made to Keikeyi.
Stolen Hope is Rama, Sita and Lakshmana's journey through the Dandakaranya forest where the Rakshasas and sages coexist. In this forest, the deceptive demons focused on exterminating the sages, while focused on attaining self-perfection which later on turned into self-protection due to the menace of the Rakshasas.
In this book, there are a lot of stories related to this jungle of punishment and also of the time spent there by Rama, Lakshmana and Sita. Interesting tales of how Rama single handedly fought a war with Khara and Dushana and their fourteen thousand rakshasas, Lakshmana's encounter with Surpanakha, the story of Agastya and Lopamudra, abduction of Sita by Ravana, Jatayu's fight with Ravana and Rama and Lakshamana's meeting with Shabri are featured in this book.
It was interesting to know about so many unknown facets of this epic story like Rama never killed anyone in front of Sita, the eighteen curses on Ravana or the origin of Sitaphal, or why Rama followed the golden deer knowing it was Maricha or why snakes have forked tongue, or why the squirrels won't hurt even after falling from a great height. The significance of Sita throwing the blade of grass in front of Ravana or the difference between Jatayu and Maricha who both died like martyrs foe causes are pretty thought provoking.
What I also liked were the footnotes that shared profound philosophies and enlightening pearls of wisdom. These footnotes and notes explained the various actions and their consequences and how we can relate them to our actions and reactions in our day to day life. This correlation of this epic story to our day to day life makes Stolen Hope more than just a 'tale'. The science of giving feedback or how to deal maturely with impulsive conflicts in relationships made for insightful reading.
The language in the book is simple and compelling and the narrative is crisp and vivid! At places, I felt that the dialogues between the characters were too dramatic. The story in the book moves at a steady pace with beautiful life lessons.
Stolen Hope is an engaging read and I cant wait to read the next book in the series.
Linking this to Day 4– Write Tribe Festival Of Words #5