No Safe Zone
Title: No Safe Zone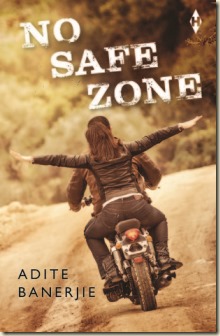 Author: Adite Banerjie
Publisher: Harlequin
ISBN: 978-93-5177-775-5
Number of Pages: 176
Price [INR] : 199
Genre: Romance
I have read Adite's earlier romance novel Trouble Has a New Name which is a chick-lit and a romance that makes you sigh dreamily! Though I had read this book some 2 years ago, I am still smiling on remembering some smart and witty acronyms in the book and RBILs or The Rayna Book of Immutable Laws. So, when I got an opportunity to read No Safe Zone, which is Adite's third book, I grabbed it immediately.
No Safe Zone is a romantic suspense and is the story of Qiara Rana and Kabir Shorey. Qiara works for an NGO in London which runs into some trouble. Qiara comes to Delhi , a city she had vowed never to return to. She is in Delhi to track down their NGOs biggest sponsor who seemed to have disappeared from the face of the earth. She needed some answers real fast but finds herself in a situation which is way beyond her wildest dreams and her worst nightmares.
Kabir works for an Intelligence Agency and is working on tracing a dubious businessman and his links to a ring of women traffickers in Europe. Amidst a murder and a gunman on the loose, Qiara and Kabir's paths cross again. Qiara turns to Kabir for help, the man who stood her up ten years ago. Past and present collide in a deadly plot of crime and greed that moves from the cosmopolitan streets of Delhi to the bazaars and villages of Rajasthan. Their romance blossoms once again as they investigate and explore the horrifying crime of human trafficking.
No Safe Zone is not just a mushy romance but has all the ingredients of a ingredients of a Bollywood masala potboiler. There's a murder and intrigue, cold-blooded crime bosses and their ruthless crimes, kidnappings and chases too. Though the story is predictable, but there are so many twists and turns, along with suspense and drama that the reader in me was enthralled and engaged till the very end. And that's a big plus.
I liked the novel theme and the beautiful account of Rajasthan in the story. No Safe Zone also sheds light on the horrifying and lesser known crime of baby bazaars where children/infants being bought and sold like goods for adoption or child trafficking. Of course, the romance is sizzling hot!
In all, No Safe Zone is a fast paced engaging and a well written story with a dash of romance and thrilling intrigue too. Check it out for a delightful reading experience.