His Drunken Wife
Title: His Drunken Wife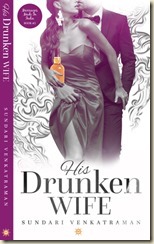 Author: Sundari Venkatraman
ASIN: B01KCXSMMM
Number of Pages: 101
Price [INR]: 120 (Kindle)
Genre: Contemporary Romance
His Drunken Wife is the ninth book authored by Sundari Venkatraman and is the Book#2 in the 5-novella series Marriages Made in India.
The characters of this book were part of Sundari's earlier novella, The Runaway Bridegroom. In His Drunken Wife, Mr. Perfect Abhimanyu falls in love with Shikha , the rebel. It's love at first sight for him while for Shikha, Abhimanyu doesn't figure on her list anywhere.
When Shikha gets to know that Abhimanyu is rich enough for her, she accepts his marriage proposal. But it's all one sided love. And it's all from Abhimanyu's side while Shikha continues to act rash and randy. She is addicted to alcohol and continues to drink unabashedly even on their weeding party.
And then Abhimanyu sets out on a honeymoon to Thailand with his drunken wife…
I was amazed to read His Drunken Wife for this book is so different from Sundari's regular stories. The story did not have the regular sweet, strong and virtuous heroine. Shikha, the main protagonist is bold, quick-tempered, headstrong and has all the traits that made me dislike her. It took me a while to warm up to her. I wondered what made the charming, rich and intelligent Abhimanyu to marry her. But when love strikes someone like lightning, so powerful and intense it can't be ignored. As bedfellows go, there couldn't be a less compatible pair, but they had some amazing sizzling chemistry going on between them.
I liked how the characters developed as the story progresses. Shikha's devil-may-care attitude and alcoholism is understandable once her past is known. The husband who cooks for his wife and who is patient and understanding too, ooh, it's not at all difficult to fall in love with Abhimanyu. The writing is crisp and lean as always. The pace of the story is fast which makes His Drunken Wife a quick read.
Check out His Drunken Wife for a quick sizzling read.

Facebook | Website | Blog Tours | Twitter | Pinterest | Linkedin