The Jeera Packer
Title: The Jeera Packer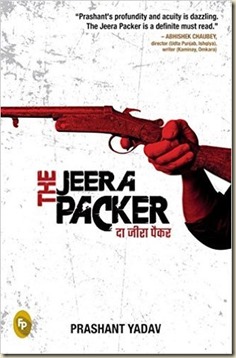 Author: Prashant Yadav
Publisher: Fingerprint! Publishing
ISBN: 978-81-7599-418-8
Number of Pages: 344
Price [INR] : 295
Genre: Fiction
I once changed the history of Uttar Pradesh state with a gun and a finger. One shot, one man. Right man, wrong man. But that was thirty years ago. I shot people through their heads then. I pack jeera in a basement now.

This is me and here is my story.

He was the best sharpshooter in the state. A true bullet artist. But he gave it all up to lead a happy, normal, stable life . . . with his loving wife and dear son. And that proved to be his undoing.

Resonant and deeply affecting, The Jeera Packer is the gripping tale of a man who after three decades of playing the happy family man returns to his profession of old for one final work—to shoot the chief minister.

Convinced that this is his raison d'être, will he manage to pull off this one last act, as his concluding hat tip to the man he could have been? Will he be able to brush away the jeera dust and rediscover himself? Or has the middle-aged family man already throttled the sharpshooter in him?
I would have read this book in a day, but due to work exigencies, I finished reading The Jeera Packer in two days. Oh, boy! Did I like it? I loved reading this book as I was hooked to it right from the word go!
The main protagonist is an ex-sharpshooter who now lives a clean regular life with his family. He is not happy with his mundane life as something within him has died. He decides to reignite the passion in his life and works on a mission to kill the Chief Minister, who incidentally is his boss from the gangster days. The CM has prime ministerial aspirations and wants his drug-addict son to replace him. His inner circle is certainly not happy with his decision and a few of them plan to kill him as well. Who is successful in killing the CM and what's the modus operandi… well, to know that you need to read The Jeera Packer.
The Jeera Packer is a contemporary political crime thriller with characters, plot, setting, events, language mirror real life.
The Jeera Packer has multiple characters in multiple settings living out multiple plotlines, as they engage in power, politics, manipulation, violence, betrayal, greed, desires and deceit. All these multiple subplots are interconnected and are woven deftly into the main plot which not only moves the story ahead at a faster pace but also engages the reader.
I liked the way the characters are introduced in the story. There is no information overload about the various characters. It's interesting to find details of the various characters bit by bit. And all the while the reader in me was trying to figure out who they really are and what makes them tick, what secrets they're hiding… And that's certainly stimulating and adds to the intrigue.
The dialogues are smooth and natural and the language is simple and lucid. The book is high on humor, sarcasm and witty one liners. The twists and turns in the story are handled really well. All in all, The Jeera Packer is a perfect balance of action, drama, and intrigue.
If anyone is thinking of making a movie based on The Jeera Packer, I'd vote for it.
The Jeera Packer is a fantastic page turner and is highly recommended.
Well Done, Prashant Yadav! Well Done!!