7 Reasons to Travel Solo
Although, it is exciting and rewarding to travel to newer places with family and friends, but there's something incredible about traveling alone. And that's also because some journeys in life can only be traveled alone.  Don't believe this? Well here are some compelling reasons to travel solo…
Reason #1 : It IS Empowering
There was a time, when I would feel extremely uncomfortable to eat alone at a restaurant. And then, I got over it. Traveling alone pushes you to move outside your comfort zones as you come across so many unfamiliar situations. Since, there's nobody to handle these situations for you, you overcome all your fears and inhibitions and just plunge into them. And believe me, that's truly empowering.
Reason #2 : It Recharges You
When you are traveling with family, (for a woman especially), it is not vacation, but just a change of location. You have to look after your family's needs just like the way you do at home. Traveling alone will give you the all that is needed to rest, relax and recharge you. You don't have to follow timetables, if you don't want to and can enjoy a place totally at your own pace.
Reason #3 : You Discover Yourself
Solo travel gives you an opportunity to break-free from the regular routine and spend significant time alone. And this time gives you an opportunity to reflect on your thoughts, dreams and life as well as develop self awareness and you learn to be more comfortable in your own skin. I think one travels more usefully when they travel alone, because they reflect more." — Thomas Jefferson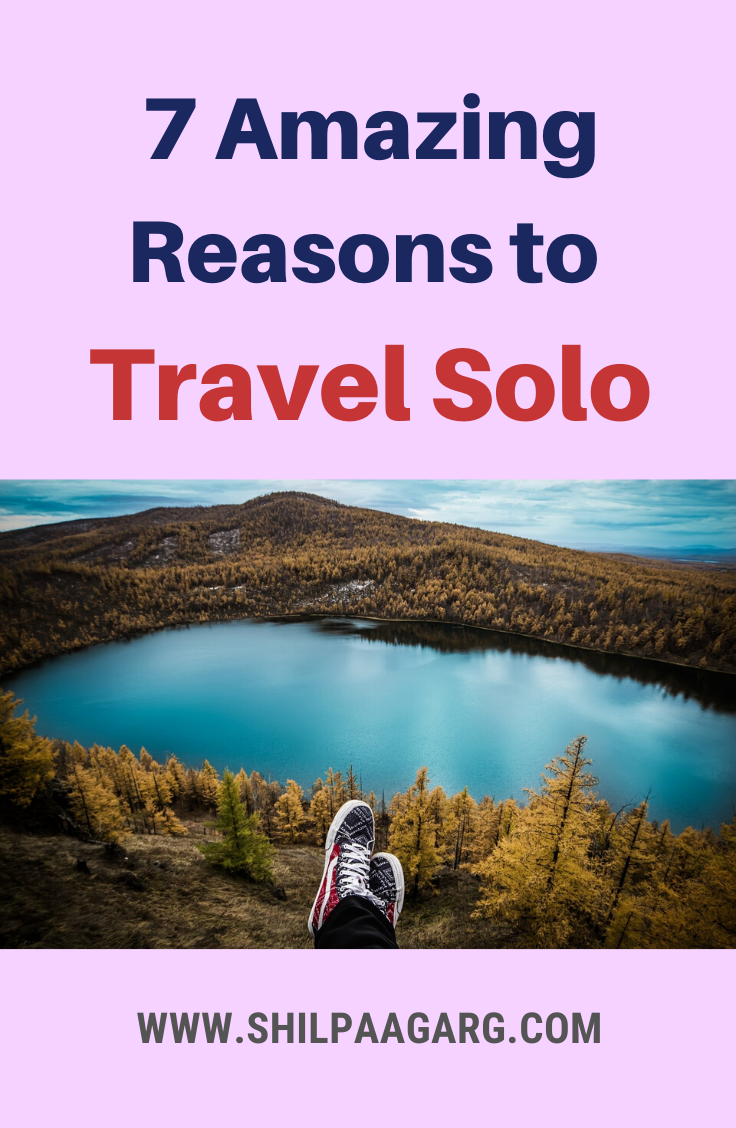 Reason #4 : It Builds Confidence
A friend who has traveled the world with her family, had to travel alone some time back. She was a nervous wreck by the time she boarded the flight. It was because, her husband took care of all things, always. And today, she is a pro. When you travel solo, independence isn't something that you need to achieve; it comes naturally to you. You have to take care of your own luggage and find your way too. Facing all the challenges, makes you a problem solver and that makes you independent and certainly boosts your confidence.
Reason #5 :  It Makes You Richer
Solo travel is a life changing experience. It makes you rich in terms of adventures, memories, experiences, knowledge and insights. These experiences when traveling alone, tend to be more meaningful and profound.
Reason #6 : You Learn Skills
I had a poor sense of direction and believed in traveling with luggage which would last me for two trips. Some mishaps made me learn to travel light and become a better traveler.
Reason #7 : It Makes You Appreciative of Your Loved Ones
Days and weeks away from your family would make you realize how important they are in your life. Traveling solo certainly makes you appreciate your family and friends more.
Solo Travel can appear to be intimidating initially. But it is going to be one of the best experiences of your life. Go for it at least once a year and going for it once in your lifetime is MANDATORY!
Have you traveled solo? How has been your experience. If you haven't, will you give it a try?
Linking this to the second edition of  BAR-A-THON by Blog-A-Rhythm
Theme – Seven
Day 2