I Am in Love #WriteBravely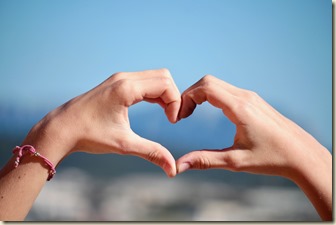 I never thought that I would fall so deeply in love but I have, and hard. I resisted the temptation for years and when I couldn't ignore it, I treaded the path, gingerly and with a lot of skepticism. The initial misgivings were because I come from old school of thought. Since, I had taken the plunge, there was no turning back. Yes, I don't do things half way. Before long, I realized that I was enjoying myself and that came as a big surprise! I thought that this was a fleeting feeling and that it would die its death soon. But, surprise, surprise, with each passing day, my love grew deeper and stronger. And I can say it boldly that my life has changed and believe me that it is not an exaggeration.
Yes, I am in love with my Kindle…truly, madly and deeply!!
It was 2014 and I had to review a book for a friend which was available only in the Kindle format. Prior to this book, I had read a PDF book on Kindle app which was a bad bad experience. Since I HAD to review this book, despite a lot of apprehensions, I read it on the Kindle app on my phone and I quite liked the experience. Slowly and gradually, I was sucked into the world of Kindle books.
When I won a Kindle in a blogging contest, my happiness knew no bounds. Today, I prefer reading Kindle books over physical books.
Recently, I had to review a paperback. I picked it up and gave it up after first chapter. Somehow, I found the small font size and even holding the book in my hands a bit cumbersome. I looked up for its Kindle version and thankfully, it was available on Kindle Unlimited and finished reading it in no time.
Yes, that's another thing I like about Kindle books. I have been able to read more number of books and at a faster pace as well.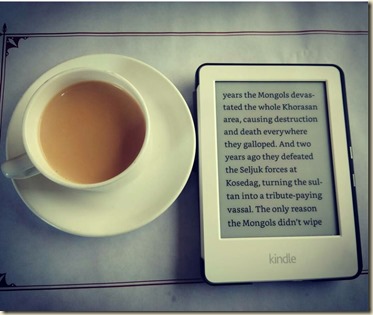 The other day, I was checking a paperback and came across a new word. I kept pressing and holding the word harder for it to show me the meaning. It was a few seconds later, I realized that I was digging a hole in the paperback.
I carry my Kindle everywhere as it fits well in my purse unlike the paperbacks which can be sometimes bulky. In case, I forget to carry it, which is rarely, the books syncs across all devices and I can continue reading it on my phone.
My library cupboard is overflowing with books. In fact, the books are packed like sardines and this is when I have donated 45 books to a local library. Even if I want to, I cant afford to buy more paperbacks because I just don't have space to store them. With Kindle, I can buy books to my heart's content and that they are economical than the printed books is an added advantage.
I was that girl who believed in the smell and feel of a new book, loved caressing the glossy cover with my fingers, and arranged and re-arranged the books by genre, size, colours… but all that has changed. Kindle has truly transformed my reading habit and has made me more addicted to the written word.
Are you a Kindle convert like me? Or are you still in love with reading the good old-fashioned paperbacks? Or are you a bit of both?
Linking this to the Write Tribe's Festival of Words
Day 2 – Prompt – Share about a resource/s you have or use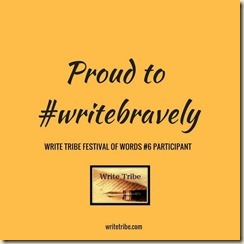 Image Courtesy : Pixabay