Be a #YesMom – Say Yes to Immunity @Immuno_Boosters
Recently, I came across a video on social media that showed a social experiment where moms saw the effects of saying 'no' to their kids. I wondered, did those moms become Yes Moms and was it difficult to become a #YesMom after years of saying no? I was delighted to what came next…
This video made me think and reflect on how I speak to my child and what impact it might have on his young mind.
How many times a day do I say 'No' to my child? I think, a hundred times, at least. That's because I am that over-cautious mother. I believe that I must deny his requests which has the potential to harm him. So, I use the word 'No' liberally every day. But I do realize that this may have a negative impact on my child.
We all know that 'No' is restrictive and limits the boundaries of a child, and 'Yes' is all about encouragement and positivity. But is it easy to say 'Yes' more often?
Saying 'Yes' when the child wants to eat ice-creams first thing in the morning or gets soaking wet while sprinkling water in the garden or doesn't want to eat fruits and vegetables, can be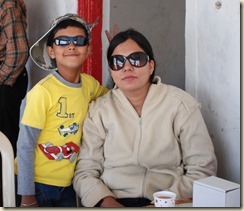 challenging. That's because I worry about him getting sick. Since his immunity is still in the growing stage, my child is vulnerable to infections. Poor immunity with frequent infections may impact his physical and mental growth, hence I resort to saying 'No'.
A healthy body begins with a healthy immune system. A regular balanced diet is the best way to help prevent disease and infections. The food that my kid eats may not be providing him with the nutrients he needs to have a strong immune system, this could be because of food adulteration or fussy habits. Thankfully, I came across a nutritional supplement which I believe can plug these dietary gaps and build my kid's immunity.
ActivKids Immuno Boosters from Cipla is a unique nutritional supplement for kids that helps build their immunity. It is available in a tasty choco-bite format (you can give this to your kid as is!) which gives up to 100% RDA (Recommended Dietary Allowance) of key Immunity Nutrients:
Vitamin A – Anti-infective vitamin
Vitamin C – Anti-immune stress vitamin
Vitamin B9 – Anti-cold vitamin
Iron – Anti-microbial mineral
7 essential nutrients like B1, B2, B3, B6, B12, D, Zinc
The nutrients present in ActivKids Immuno Boosters help build Immunity in the following ways:
Provides immune strength to fight germs
Helps in blood formation
Helps in formation of immune cells
Protects body cells from damage
Strengthens skin's defence system
Each choco-bite contributes to less than 1% calorie from sugar of the total daily energy requirement and thus presents no risks of dental caries and high calorie intake.
ActivKids Immuno Boosters is available for kids for two age groups of children, 4-6 Years and 7+ years.
After watching the video, I decided to give it a try. The nutrients in ActivKids Immuno Boosters will strengthen the immune system of my child and I may not have to worry or stress about keeping him infection free and healthy.
So I started my #YesChallenge journey by building strong immunity for my child, I would definitely advise other moms to take up the #YesChallenge for positive and liberal development of your child. Yes, my child's immunity is something that is always on my mind and I'm sure it is the case with all of you. Which is where nutrition become very important and can make a whole gamut of difference. But with ActivKids Immuno Boosters in your pocket, you can now keep saying "Yes" while knowing that your child's immunity has been strengthened.
I have joined the #YesMom brigade. You can be a part of it too. Let's bring about a positive and healthy transformation in not only in our life but that of our children too. BE A #YesMom TODAY!
Do share your #YesChallenge stories with me in the comment section and you could get a chance to attend #YesMom day with Mandira Bedi.
This post has been written in association with Cipla – ActivKids Immuno-Boosters. All the thoughts are honest and my own.