Do Not Disturb… DND [Guest Post]
Hello everyone! I am really excited to welcome Anagha Yatin Joshi from Mocktail Mommies and Canvas with Rainbow on my blog. She is an an engineer and management graduate by training, and a mother to a growing teenager son and a pre-teen daughter. She loves reading, traveling and is an accomplished bathroom singer! She indulges in a lot of chitter-chatter with her friends, mostly Mocktail Mommies buddies (yes, they are 8 of them!). I hope you enjoy her fun chatter here.
Over to you, Anagha…
It was the month of October. The Rain God was lashing the city with all its fury and might. Watching the incessant rains, someone was getting upset beyond manageable limits. Soon the living room was filled with occasional rants and grunts. The rumbling of the celestial bodies was matched with an equal shout from Master Grumpy bear…. "Hey rains, you…DND!". I lowered the book, that I was reading, a little bit from my sight to take a stock of situation.
Here was my son, standing tall but all upset, his nostrils flared up! He had made grand plans for four days… the much-awaited holidays after a grueling fortnight of exams. There was nothing in our ability that we could do to stop the march of the mighty dripping soldiers though…
But what fancied my attention was "DND"… "Do Not Disturb!"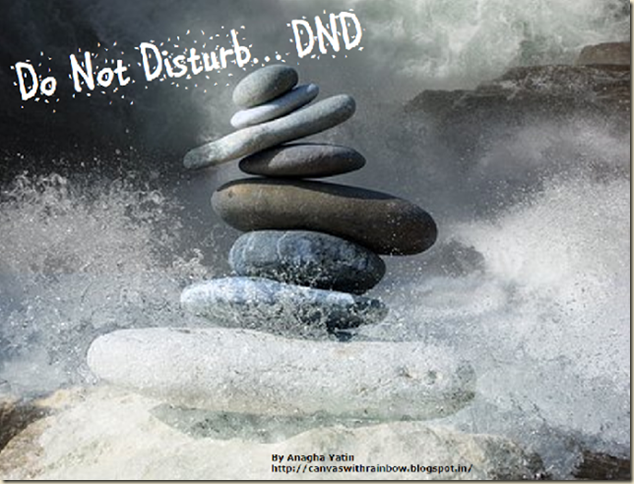 Innumerable occasions flashed from my memory as if competing with the lightening in the skies. All were my very own moments of utter frustration for not getting my "DND" tag honoured. Now before you start fancying that I am going to complain about the incidences of irresponsible staff at the hotels where I might have stayed during certain journeys, let me caution you that its not the case…
I welcome every new month with a great fan fair. Only reason being, I love monthly grocery shopping at the nearby super mart. A predecessor to this is a mandatory stock taking. With a pencil and a chit of paper… Oh yes, I belong to ancient times; I use pen and paper for making the list and not the smart phone. So I usually set out on my mission to prepare the list.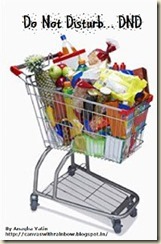 While making the list, I am half present in my kitchen and half way already transported to the super mart. The grocery, the toiletries, the bakery, the dairy products and many more sections of the house, kitchen and the super mart are at once floating in different spheres of my mind.
A big DND is written in Bold and Italics all over my face.
As the fate could have it, it is never honoured. Either the doorbell announces a casual visitor or my own clan comes up with some emergency situation, mostly their fights or the man of the house needing an urgent detail on phone! And the result? I am bewildered with two toothpastes staring in my face when I wish to fit in the one recently purchased next to them. The mosquito repellent refills are in the mood to repel any more addition to the stack. The grains declare the flood situation as the containers are filled till their brim.
Poor me, I am so at loss of space and words courtesy my list that was never done to my satisfaction! Post my monthly grocery shopping sojourn, it then takes me ages to make sure that kitchen cabinets do not explode with the deluge of surplus grocery packets!!!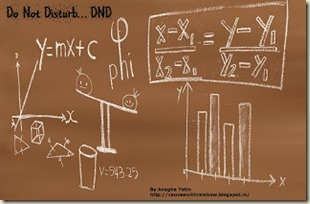 One more from a real long list…I love mathematics since time immemorial and am so proud of being a mathlete! But this very pride bites the dust when I am facing the green grocer and trying to calculate the exact amount to be paid for 650 grams of apple or 800 grams of lady fingers! When I am busy doing some mental maths, believe me at those times, I find it far more complicated than rocket science.
DND flag is up on face by this time, which the green grocer fails to recognize, so do the fellow buyers. The honking on the street by the vehicles also join this gang. They all collectively dishonor my right to privacy for calculations! Sans any pen and paper, I then try to figure it out in air. The mobile rings at that very precarious moment. All the numbers and calculations done so far, vanish from the air screen. By the time I reach out to the mobile in my purse, which is like "Alibaba's den", the ring dies out. Gone are the numbers and the caller. The green grocer then takes pity on me. No wonder most of the times he says, "Madam, you finish purchasing first. Don't bother about "hisab"!" DND flag is then hoisted down, so very unceremoniously and with a pain of great defeat!
Have you faced retreating of the DND flags? Do let me know… One thing is for sure, though they are signs of utter frustration, they make for a good laugh in hindsight!!
This post is written for the December blog hop #mymojo with Shalzmojo
Linking up for #wordsante with Namysaysso for every post deserves some love.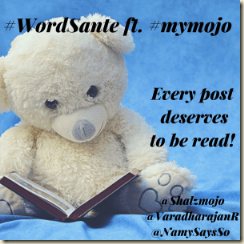 All pics courtesy Pixabay and ImagesBazaaar