5 Reasons Why Adventure Travel is Good For You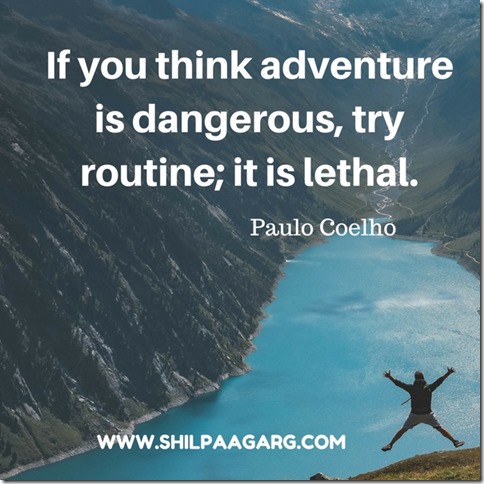 You must have read this quote from Mark Twain, "Twenty years from now you will be more disappointed by the things you didn't do than by the ones you did do. So throw off the bowlines. Sail away from the safe harbour. Catch the trade winds in your sails. Explore. Dream. Discover." These words have a lot of wisdom and clearly reveal why adventure travel is good for you. It also states that in order to grow and to become the best version of yourself, you must seek new experiences and adventures.
For most of us, a vacation means lying by the pool or sightseeing the touristy places with strict timelines, drinking and eating with gay abandon and shopping. There's nothing wrong in doing this on a vacation, but should you be doing that every single time? How about trying some adventure?
Adventure travel is a combination of exploring natural wonders and remote locations by doing activities like backpacking, hiking, biking, walking, rock-climbing, paddling, snorkeling, canoeing, kayaking, camping, diving, skiing, sledding, surfing, boating, rafting, fishing etc etc.
Let me share 5 reasons why you should embrace Adventure Travel…
Good for your physical and mental health. Have you noticed that there's a smile on people's face after they've come back from an adventure activity. It's like all the stress and troubles of life have vanished in the wilderness. Physical activity along with mental peace helps to regenerate and rejuvenate the body.
Helps you to step out of comfort zone. I never thought that I could cross a valley using nothing but ropes or descend a vertical wall or a rock face. Activity like these helped me to realize my potential and created self awareness too.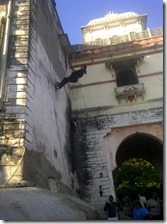 Helps you to cope with uncertainties. On an adventure trip, things don't go as planned. There are uncertainties, alternate plans and challenges that eventually help us cope with the uncertainties we face in life.
PIN THIS POST FOR LATER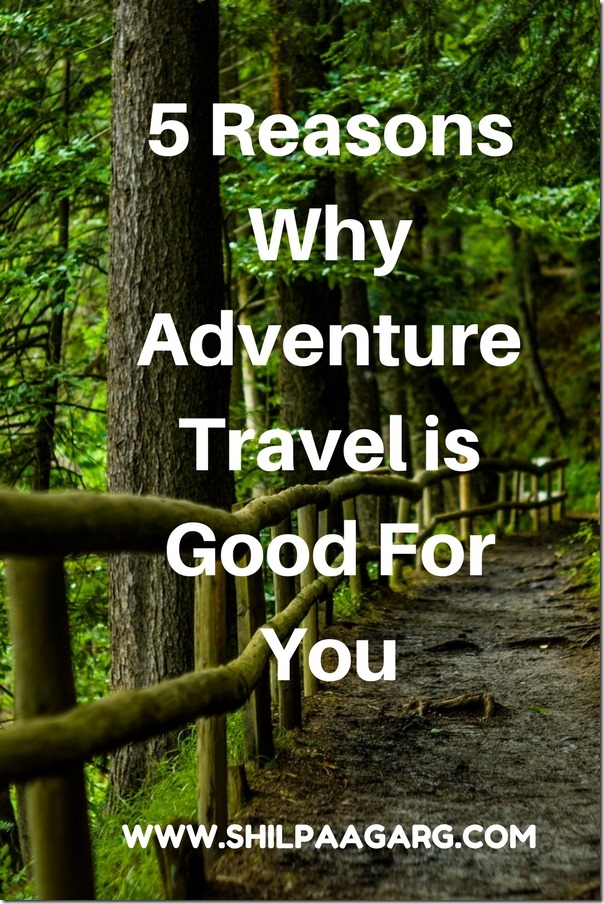 Makes you happy in the long run. Research has shown that people with varied experiences are more likely to retain positive feelings than people who have fewer experiences.
Broadens your perspective on life. Seeing new situations, learning about nature at its rawest, and experiencing new cultures and traditions will give a new perspective on life. The perspective you might gain in five years can be gained in a week long adventure trip. Till sometime ago, living without technology was unthinkable for me, but living at this remote resort in the hills for three days made me realize that I had not missed anything. FOMO – the fear of missing out had turned into JOMO – the joy of missing out.
So go on and be curious, seek some pulse-quickening experiences and push your boundaries as you go for your adventure trip, which can be as big or as small as you want it to be.
Have you gone on an adventure trip? Do you love adventure travel? Which is your memorable adventure trip?
My theme for this year's Blogging from A to Z April Challenge is Notes from the Road, which has my thoughts, views, experiences, tips, stories inspired by my years on the road.