How to Plan Your First Solo Trip
Solo Travel? The mere thought of it is scary and intimidating. The main concerns being absence of safety net, loneliness and boredom… But you know that it's possibly the best gift you can give to yourself. The benefits of solo traveling are a LOT. It not only empowers you but helps you to come out of your comfort zone and boosts your self-esteem too. You may read my earlier posts on some compelling reasons to travel solo and tips for solo travel…
So, how can you keep your concerns regarding solo travel aside and take up the most wonderful adventure of your life? Well, by planning it right! Here's how you can get started with your first solo trip…
Start Small – You know big change starts with small steps. Before you undertake your maiden solo trip, you can first test the waters by going out for a movie or lunch at a new restaurant on your own, or you can visit the local touristy destination alone. When you have successfully done that, go on a weekend trip to a place near your city. These will help you to step outside your comfort zone. Once this is done, look out for a place that's relatively 'easy' and comfortable and then work your way up from there. Yes, you don't have to travel to the other side of the world on your first solo trip.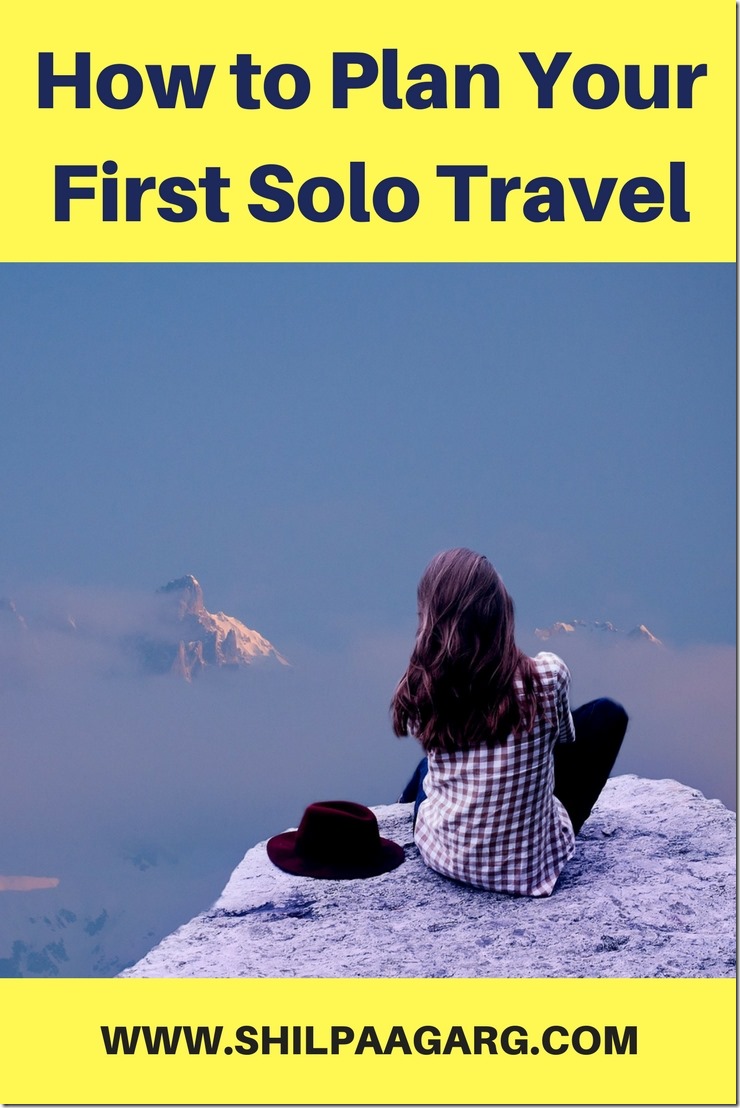 Gather Information – Do extensive research. Research all that your destination has to offer and list the things that interest you the most. Check out details of the destination, hotels/BnBs/home stays, rules and regulations, maps… Read blogs to know the experiences, stories and recommendations and tips of other travelers. Women solo travelers, should check out details about the culture and traditions of the place. Do you need to dress a certain way to visit religious places? Are there certain behaviors that you can downplay to avoid problems? Check out these details.
Make a Plan – Not knowing what to do in a new city can be terrible. Your research will help you in making your itinerary. So plan your schedule, though this plan can just act as a guide or a back-up.
Know Yourself – If the place boasts of having the best spot for scuba diving and you are scared of water, you need not do that. Do things at your pace. Know what excites you and what puts you off. Know that you have to be cautious and responsible for yourself, so know the real you. But it's ok to stretch your boundaries too. When I went to Kuwait, we were invited by our local hosts for dinner. They had prepared a lavish meal comprising of ducks, crabs and prawns. I am a non-vegetarian but restrict myself only to the chicken and mutton. The spread was certainly not in my comfort zone, but I ate all that was served that day. And then even tried beef and camel's meat at a restaurant.
Be positive. You may be scared inside or people (family and friends) may doubt you, but keep an open mind and be positive. Like they say, universe always gives you what you want. So think happy and positive thoughts. Also the place you'll go might be a contrast to your culture, beliefs and traditions. Be open to respect and understand the differences and adapt to the given situations.
Sign up for Group Activities – You don't have to be all alone on your trip. You can be a part of a group guided tour to a historical place or cycling expeditions. Find opportunities to meet locals and fellow travelers and talk to them.
Trust Your Instincts – If there's anything that makes you uncomfortable or nervous, you don't have to worry about being rude or weird, you just have to get out of that situation. You need to trust your gut feeling and your safety is your number one priority.
Solo travel is easier than you think, just let go of your fear and inhibitions. Believe me, taking your first solo trip might even be the catalyst to an intense and deeper love for travel.
Have you traveled solo? How has been your experience. If you haven't, will you give it a try?