Stories from Rail Journeys
They say, a traveler without observation is a bird without wings. And I have pretty long and strong wings that way. I love observing people and things around me. Observing people while traveling by trains gives a large depth of field as compared to travel by bus or flight. These observations give birth to so many stories in my head. Of course, I may not have the complete picture, but I like to imagine the possibilities. And sometimes I just observe and do nothing about them, too.
Here are some observations and stories from my different rail travels.
A pantry guy served the complimentary Mineral Water to all. In his tray, bottles are neatly arranged, with paper cups placed on top of each bottle. A paper cup fell near the shoe of a passenger. He picked it up and placed it again on the bottle. So, somebody will use a dirty cup! And I am certainly not gonna use mine!!
My co-passengers are a father and a son duo. Father is helping the child revise his study material. So, the 5 year old is learning the various parts of the body, animals, people who help us etc etc. The father is even making him recite the poems. I am impressed. Usually, this role is performed by the mothers. Soon his phone rings which is lying on the seat. The child tells him, "You have got a call from Dimple Aunty." And then asks,"But you haven't written Aunty after her name. It's just Dimple".
Dad explained, "She is your Aunty, not mine!"
I am curious about this Dimple Aunty now!!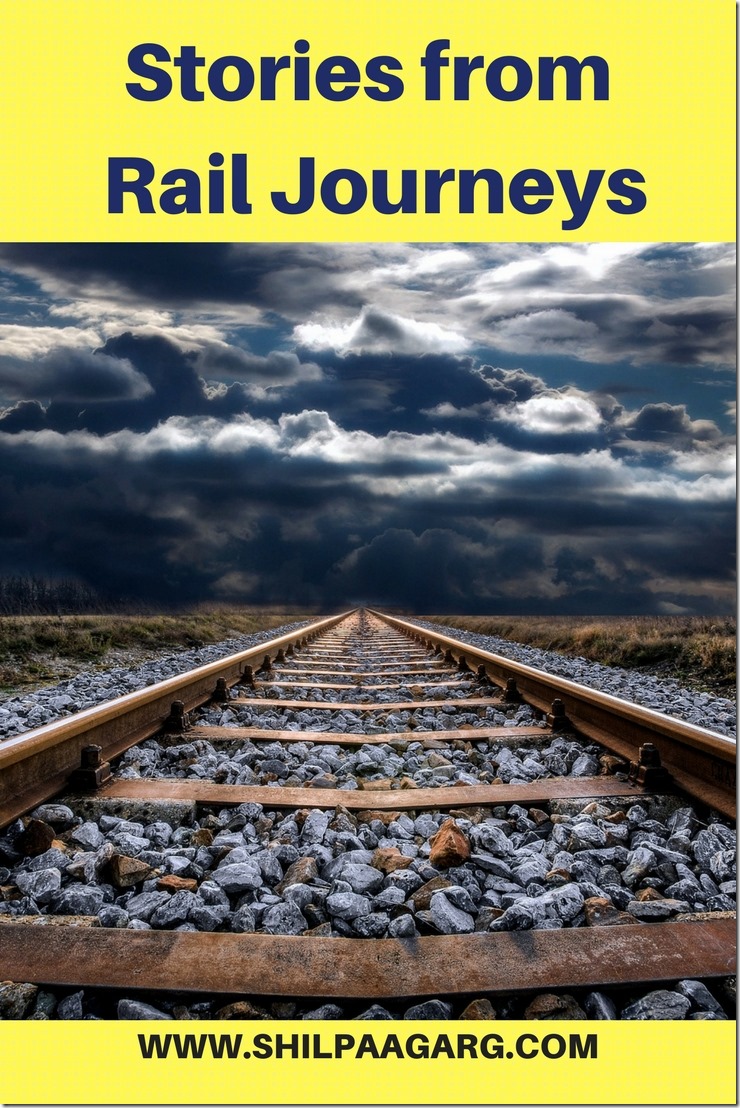 An elderly uncle is playing some game on his mobile and it seems, either he is leveling up very fast in the game or failing miserably as the game music is being played every few seconds!
A guy is talking on the phone since ages. A lot of office gossip is being shared with the person on the other end. And they say, women gossip a lot!!
Two gentlemen have initiated a conversation. "A" is asking "B" some personal questions…like his place of work, his current city and even his age!! When "B" repeated the process, "A" successfully dodged all the questions and did not give a single straight answer. Smart chap!
A handsome guy is sitting nearby. I am trying not to stare.  He has received a call which he has answered promptly. A few words from him and I am stunned! He has such a harsh voice and a crude accent!! Looks are sure deceptive!
The two year old daughter of the couple sitting opposite to me is very naughty. She wants to move around the compartment, she wants to sit on the upper berth, but the strict parents are not letting her to do so. Incidentally, she is wearing a T-shirt which has picture of Dora the Explorer.
A guy is sitting with a bit fat book (Competitive Exam Book), but has not studied a word. since the last half an hour. He is busy chatting with friends on his phone. There is a difference in his body language when he is talking to different set of friends… with lady friends (3 until now), he is smiling a lot, laughing a bit hesitatingly and looks all coy and shy! And is all typical boyish talk with 'Abe yaar' etc with boys!
An old lady near me is wearing her spectacles with the price tag still attached to the temple. Oh, wait!! She just removed her glasses and cleaned them and adjusted the price tag too!! I am very much intrigued now!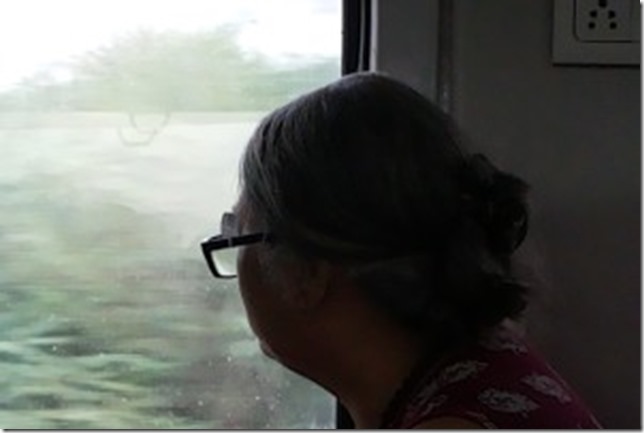 Do you observe your surroundings and people while traveling? Do share any interesting observation from your rail travels.